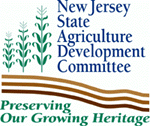 (DELAWARE TOWNSHIP) – Agriculture Secretary Charles M. Kuperus today announced the preservation of the prime 162-acre Evans Farm in Locktown, Hunterdon County, and highlighted the importance of Public Question #1 on the November 4th ballot, which would boost the availability of preservation funding.

"The preservation of the Evans farm builds on the local, county and state partnership effort to protect this critical farmland area," said Secretary Kuperus. "To date, we've preserved more than 112,000 acres of farmland statewide. In November, voters have an important opportunity to build on that success to save even more farms, as well as protect additional open space and upgrade our community parks."

Approval of Public Question #1 on Nov. 4 would make an additional $150 million available to preserve open space and farmland, and to improve community parks throughout New Jersey. The referendum proposes to increase the total amount of bonds issued by the Garden State Preservation Trust from $1 billion to $1.15 billion. The increased bonding would place no additional costs on New Jersey taxpayers. Approval of this question could provide up to $30 million to save farmland in the Highlands region, which covers part of Hunterdon County.

The State Agriculture Development Committee (SADC) purchased the Evans Farm outright in August for $1.94 million. The farmer, Floyd Evans, retired after 36 years raising champion thoroughbreds and Black Angus beef cattle. The land will be restricted for agricultural use and sold at public auction on Jan. 16 as a permanently preserved farm. The minimum bid is $1.22 million. The farm includes an 1800s Federal-style farmhouse and several outbuildings.

Public auctions of this type are good opportunities for beginning farmers and those looking to expand their agricultural operations. Farmers typically cannot afford to pay market prices for farmland. Because preserved farms are restricted for agricultural use, they cost less and represent one of the best opportunities for farmers to purchase land in New Jersey.

Recent auctions of farmland by the SADC have enabled a Holmdel nursery farmer to double the size of his operation and an East Windsor farm family to own their own land for the first time instead of renting. Neither would have been able to afford farmland at real-estate market rates.

Evans said he loves the rural character of Locktown, where many nearby farms have been preserved. "I have lived here for 36 years. Every time I drive by my farm, I will be able to look out over green fields, not more houses. That's what I wanted."

To date, 945 farms totaling 112,449 acres have been Preserved statewide. For auction information, visit www.state.nj.us/agriculture/sadc/sadc.htm or call 1-800-474-5314.