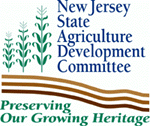 (NORTH HANOVER) – Agriculture Secretary Charles M. Kuperus today applauded the state, municipal and county partnership to preserve as many as 36 additional farms in North Hanover Township, and highlighted the importance of Public Question #1 on the November 4th ballot to make available more state funding for open space and farmland preservation.

"We were pleased to approve North Hanover's application for a Planning Incentive Grant that will set aside $3.3 million over six years to help preserve the township's agricultural character," said Secretary Kuperus. "By promoting a comprehensive approach to farmland preservation, planning incentive grants like this one are key to our efforts to promote smart growth, strengthen agriculture and protect the quality of life in our communities."

Kuperus spoke at Robson Farm Market in North Hanover Township as part of Governor McGreevey's Open Space Week, designed to educate New Jerseyans about the importance of Public Question #1 in the state's efforts to protect drinking water and stop sprawl.

Kuperus noted that this constitutional amendment would make available $150 million more to acquire and protect open space and farmland in the Highlands, and funding for recreation lands in densely populated cities, older suburbs and other developed communities across the state – without placing additional costs on New Jersey taxpayers.

Kuperus chairs the State Agriculture Development Committee (SADC), which approved North Hanover Township's application for a PIG to preserve as many as 36 farms covering approximately 1,200 acres. Under the PIG program, municipalities or counties apply for grants to preserve large blocks of farms in designated project areas. The SADC provides funding annually in stages based on the progress made by the applicant in reaching agreements with landowners.

Mayor John Kocubinski said North Hanover has helped preserve 24 farms in partnership with Burlington County and with the SADC. Another 20 farms are targeted under various programs, but Kocubinski said, "With this PIG, we are focusing on smaller farms that are critically important to preserve the character of our community." North Hanover has already approved a 2-cent property tax for farmland preservation, and Kocubinski said voters will be asked on Nov. 4 to approve an additional 2 cents.

Robson Farm Market owner Neil Robson, who preserved his farm six years ago, played a central role in the township's successful PIG application. The SADC this year has allocated $48 million for 60 PIGs based in 39 municipalities. The State Agriculture Development Committee, established in 1983, is an 11-member board.

The State Agriculture Development Committee, established in 1983, is an 11-member board. To date, 945 farms totaling 112,449 acres have been preserved statewide.