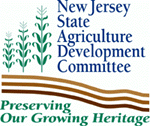 (UPPER FREEHOLD) - Praising two recent additions to the roster of preserved farms in Upper Freehold in Monmouth County, Agriculture Secretary Charles M. Kuperus today highlighted the importance of Public Question #1 that would make more preservation funding available.

"With more than 6,300 acres of farmland permanently protected, Upper Freehold leads all other municipalities in the state in farmland preservation," said Secretary Kuperus. "These preserved farms help strengthen agriculture and protect the character of this community. When we invest in our land, we're making an investment in our future - in protecting the quality of life in communities like this for generations to come. That is why Public Question #1 on the November ballot is so important."

Kuperus said the constitutional amendment would make available $150 million more to acquire and protect open space and farmland, as well as to fund park development in densely populated cities, older suburbs and other developed communities - without placing additional costs on New Jersey taxpayers.

Kuperus spoke at Dr. Stephen P. Dey's most recently preserved property, an 84-acre horse farm that is directly adjacent to his 127-acre home farm where he lives and practices veterinary medicine. Dr. Dey, who serves as president of the New Jersey State Board of Agriculture, has preserved four farms totaling 503 acres.

"This area is in my opinion the prettiest area in Central Jersey, and I would hate to see it transferred from farmland into houses," said Dr. Dey. "There is tremendous development pressure."

"Farmland preservation has been supported by the horse industry in Upper Freehold Township and in Monmouth County," said Dey, who raises standardbreds on his two Hill Road farms. "Because they can make a living, they are willing to put their farms into farmland preservation."

To date, 46 farms covering 6,329 acres have been permanently preserved in Upper Freehold. That amounts to 80 percent of all the preserved farmland in Monmouth County. The most recent farm to be preserved was the 209-acre Satterthwait Farm on Route 539 in the Cream Ridge area, fulfilling the wish of the late owner, Richard Satterthwait, to save from development the land he had spent his life farming.

The State Agriculture Development Committee, established in 1983, is an 11-member board. To date, 946 farms totaling 112,595 acres have been preserved statewide.