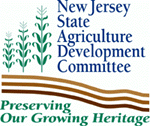 (POHATCONG) - Speaking in the heart of Warren County's Highlands region, Agriculture Secretary Charles M. Kuperus today applauded the state, municipal and county partnership aiming to preserve more than 100 farms in Pohatcong, and highlighted the importance of Public Question #1 on the November 4th ballot to make available more state funding for Highlands preservation.
"Through approved planning incentive grants, Pohatcong has identified four project areas for farmland preservation efforts that will help preserve the agricultural character of the township," said Secretary Kuperus. "By promoting a comprehensive approach to preservation, planning incentive grants like these are key to our efforts to promote smart growth, strengthen agriculture and protect the quality of life in our communities."
Kuperus also discussed the importance of Public Question #1 in the state's efforts to protect drinking water and stop sprawl. He said the constitutional amendment would make available $150 million more to acquire and protect open space and farmland in the Highlands, as well as to fund park development in densely populated cities, older suburbs and other developed communities - without placing additional costs on New Jersey taxpayers.
Kuperus spoke at Gary Hartung's farm, part of a scenic, 561-acre property that was preserved five years ago. The tract was divided into three farms for auction sale, and Hartung, who has farmed in the area since childhood, purchased a 201-acre segment in 2000. He lives there with his wife, Michell, and daughter Kimberly, growing field crops such as corn, soybeans, wheat and hay. "Right around me all the land is protected. You know you can stay in farming," Hartung said.
Pohatcong Township Councilman Steven Kehayes played a key role in project area planning. He said the township in coming months expects to complete the preservation of the first four farms totaling almost 400 acres through the Planning Incentive Grant program. To date, eight farms totaling 1,077 acres have been preserved in Pohatcong through more traditional programs.
"When the Planning Incentive Program began, we took a look at it, knowing there was the municipal will to preserve land. We saw there were new tools opening up," Kehayes said. "You can put several farms together and it saves you a lot of time and money."
Kuperus chairs the State Agriculture Development Committee (SADC), which approved all of Pohatcong's applications for Planning Incentive Grants that could preserve as many as 122 farms covering 5,338 acres. The SADC provides funding annually in stages based on the progress made by the applicant in reaching agreements with landowners.