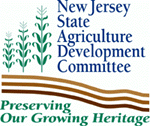 (LAFAYETTE TOWNSHIP) - Agriculture Secretary Charles M. Kuperus today applauded the preservation of the 135-acre Scott Farm, and highlighted the importance of Public Question #1 on the November 4th ballot to make available more state funding for open space and farmland preservation.

"When we invest in our land, we're making an investment in our future - in strengthening agriculture and protecting the quality of life in communities like this for generations to come," said Secretary Kuperus. "That is why Public Question #1 on the November ballot is so important."

Kuperus said the constitutional amendment would make available $150 million more to acquire and protect open space and farmland, as well as to fund park development in densely populated cities, older suburbs and other developed communities - without placing additional costs on New Jersey taxpayers.

Kuperus spoke at Edward and Jane Scott's recently preserved 135-acre farm on a hilltop overlooking a significant segment of the Highlands. So far, four farms covering 1,019 acres in Lafayette Township have been preserved at a cost of $2.2 million. The Scott farm was preserved through the Sussex County Farmland Preservation Program for $547,000, of which the state paid $383,000 of the cost. The easement purchase means the land will remain in private hands but has been permanently restricted by easement for agricultural use.

Jane Scott said it was an important family goal to see the farm permanently preserved. Ed and Jane spent decades running an award-winning dairy operation with Guernsey cows until selling the herd in 1998 and converting to a full-time hay farm in preparation for retirement. The Scotts recently contracted to sell the deed-restricted farm and plan to move nearby so Ed can continue helping the new owner farm the land.

"Ed probably will never retire completely," Jane said. "He has always loved farming. He was born in the house on the farm, he grew up on the farm and he has been farming here his entire life." Jane said it would have broken their hearts to see the land developed. "We could have made a lot of money having houses through there. We just did not want to see that," she said.

The State Agriculture Development Committee, established in 1983, is an 11-member board. To date, 948 farms totaling 112,746 acres have been preserved statewide.