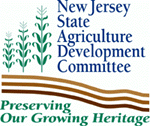 (ALEXANDRIA TOWNSHIP) – Agriculture Secretary Charles M. Kuperus today applauded the preservation of the 105-acre Lyness Farm in the Highlands region of Hunterdon County, and highlighted the importance of Public Question #1 on the November 4th ballot to make available more state funding for open space and farmland preservation.

"The preservation of farms like the Lyness Farm is key to building a strong future for agriculture in New Jersey," said Secretary Kuperus. "When we invest in our land, we're also protecting the quality of life in communities like this for generations to come. That is why Public Question #1 on the November ballot is so important."

Kuperus said the constitutional amendment would make available $150 million more to acquire and protect open space and farmland in the Highlands region, as well to fund park development in densely populated cities, older suburbs and other developed communities – without placing additional costs on New Jersey taxpayers.

Kuperus spoke at Thomas and Mary Lyness's recently preserved 105-acre farm near Everittstown village in Alexandria Township. So far, six farms covering 457 acres in Alexandria Township have been preserved at a cost of $2.1 million. The Lyness Farm was preserved through the Hunterdon County Farmland Preservation Program for $509,000, of which the state paid $332,000 of the cost. The easement purchase means the land will remain in private hands but has been permanently restricted by easement for agricultural use.

Thomas Lyness said it was an important family goal to see the farm permanently preserved. He and his wife, Mary, were raised in urban Plainfield but Thomas had spent his summers on a family farm and the couple had always wanted a rural life. Their son Gerry has taken up farming full-time, growing hay and raising cattle to produce organic beef.

The Lynesses first lived in a rural area of Bridgewater, "but we got surrounded by more and more development. To see some of these places go, it is a real shame," Lyness said. "We moved here in 1985 because this is a beautiful area. Since then we had a number of developers sending us letters and approaching us. After second thoughts about it, we just didn't want all those houses."

Today's event wraps up a month-long schedule of farmland preservation events at which Secretary Kuperus has discussed Public Question #1 and highlighted a number of preservation projects, with visits to farms in nearby Delaware Township, Hunterdon County, on Oct. 1, and in Burlington, Monmouth, Warren, Sussex, Camden and Morris counties.