(PATERSON) –New Jersey Agriculture Secretary Charles M. Kuperus today helped assemble and distribute packages of Thanksgiving food to emergency food recipients at St. Paul's Community Development Corporation's food pantry.

"As families around New Jersey celebrate Thanksgiving, we must not forget those less fortunate than us who confront the issue of hunger every day," said Secretary Kuperus. "While the problem may seem more pronounced during the holidays, the Department works cooperatively with communities year-round to battle hunger."

Kuperus assisted St. Paul's staff and volunteers in putting together bags each filled with all the makings for a Thanksgiving meal. Kuperus also distributed the packages and handed out turkeys to some needy families and individuals. In all, St. Paul's officials expected to distribute 300 bags and 400 turkeys for the Thanksgiving holiday.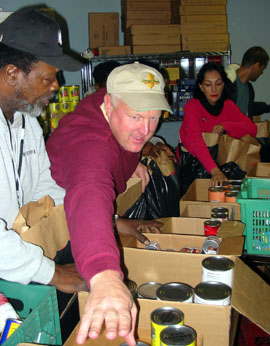 St. Paul's food pantry assists as many as 2,500 to 3,000 individuals and families annually. St. Paul's Community Development Corporation is a non-profit organization offering a variety of social service programs to low-income residents in Passaic and Bergen Counties. Besides the food pantry, it operates an emergency shelter and offers adult education courses, youth services, and women services.

"St. Paul's pantry is an example of how community involvement can make a difference in people's lives," said Secretary Kuperus. "More than 300 volunteers help St. Paul's deliver on its commitment to improving the quality of life for individuals and families in the area."

St. Paul's is one of 650 local pantries, soup kitchens and homeless shelters in the state that receives United States Department of Agriculture (USDA) commodities through The Emergency Food Assistance Program (TEFAP). Commodities include dry and canned food, fresh produce, frozen meat, poultry and fish, dairy products and other grocery items. St. Paul's receives its commodities from the Community FoodBank of New Jersey in Hillside, the fifth largest emergency food organization in the nation.

"Since we are the 'Garden State,' it is nice to see Secretary Kuperus here to see where some of our 'garden' products are distributed," said Clifford Schneider, Executive Director of St. Paul's Community Development Corporation. "Without NJDA and USDA support, St. Paul's food pantry would not be able to keep the program going. We have managed to give out almost 400,000 equivalent meals in 2004."

TEFAP is a federal program administered in New Jersey through the state Department of Agriculture (NJDA). Last year, TEFAP served 1,421,462 recipients and provided 3,895,679 meals at soup kitchens and shelters.

In New Jersey, 14.8 percent of children under 18 live in poverty. Two out of every five people receiving emergency food are children. One out of every five is elderly, living on a fixed income. The remainder are adults that are working or unable to find work due to a crisis situation.

The Secretary's tour also included a stop at the FoodBank of Monmouth and Ocean Counties, where he helped cook Thanksgiving meals for 6 to 12 year-olds in the afterschool tutoring program at the Monmouth Boys and Girls Club in Asbury Park.