(NEPTUNE) – New Jersey Agriculture Secretary Charles M. Kuperus today pitched in at the FoodBank of Monmouth and Ocean Counties as 100 Thanksgiving meals were prepared for children in an afterschool tutoring program in Asbury Park.

"As families around New Jersey celebrate Thanksgiving, we must not forget those less fortunate than us who confront the issue of hunger every day," said Secretary Kuperus. "While the problem may seem more pronounced during the holidays, the Department works cooperatively with communities year-round to battle hunger."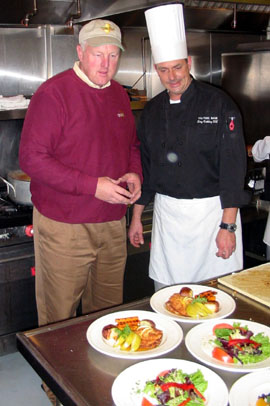 Kuperus and Chef Ray Cattley -- instructor at the FoodBank's culinary arts job skills training program for low income people who are either currently receiving or at risk of needing emergency food -- whipped up selections from the "Jersey Fresh Cooks" cookbook using United States Department of Agriculture commodities and Jersey Fresh produce, including Turkey Scallopine with Pecans and Apples, Herbed Oven Brown Potatoes, and Grilled Batonette of Jersey Butternut Squash with Parmesan Cheese.

The meals are part of the "Hope Begins Here" program, a cooperative agreement between the New Jersey Department of Agriculture (NJDA) and the FoodBank allowing the use of USDA commodities in preparing meals for the Monmouth County Boys and Girls Club in Asbury Park. According to the 2000 census, 40.5 percent of all children in Asbury Park live in households with incomes below the Federal poverty line.

"In a country as advanced as ours, there is no reason any child should go to bed hungry," said Secretary Kuperus. "Programs like this one at the FoodBank of Monmouth and Ocean Counties ensure kids get a hot meal every day after school, and get a real taste of Thanksgiving, using the freshest locally grown vegetables and herbs the season has to offer."

The FoodBank of Monmouth and Ocean Counties is one of six emergency food organizations statewide the NJDA contracts with to distribute federally donated food to needy individuals and families through a network of 650 local pantries, soup kitchens and homeless shelters.

"We are very excited that Secretary Kuperus was here to help prepare food for the Asbury Park Boys and Girls Club," said Susan Kelly, FoodBank Executive Director. "Secretary Kuperus recognizes the problems of poverty and hunger and supports this issue statewide. Without the Department of Agriculture's support for our work at the FoodBank, many of our neighbors would not receive nutritious meals."

In 2003, the FoodBank distributed 3.4 million pounds of dry and canned food, fresh produce, frozen meat, poultry and fish, dairy products and other grocery items. Of that, 43.5 percent was USDA commodities. USDA donated commodities are allocated through The Emergency Food Assistance Program (TEFAP), a federal program administered in New Jersey through the state Department of Agriculture (NJDA). Last year, TEFAP served 1,421,462 recipients and provided 3,895,679 meals at soup kitchens and shelters.

In New Jersey, 14.8 percent of children under 18 live in poverty. Two out of every five people receiving emergency food are children. One out of every five is elderly, living on a fixed income. The remainder are adults that are working or unable to find work due to a crisis situation.

The Secretary's tour also included a visit to St. Paul's Community Development Corporation's food pantry in Paterson to assemble and distribute holiday food packages to those in need.