(TRENTON) – The successful teaming of a New Jersey eggplant processor with a New Jersey eggplant farmer took an unexpected route through Chicago.
Last May, at the annual FMI Show in Chicago, New Jersey businessman Tom Hoversen approached Al Murray, Director of the Division of Markets for the New Jersey Department of Agriculture, with one simple question.
Where, Hoversen wanted to know, could he locate a New Jersey farmer growing eggplant to supply Hoversen's COMARCO Products Inc. of Camden with some of the 6.5 million pounds of eggplant it processes in a year.
"I thought, 'You've got to be kidding,'" said Murray, who headed up a contingent of New Jersey agricultural officials and businesspeople in the state's FMI pavilion. "I know where you can get all the eggplant you need, and it's real close to where you're located."
Murray put the word out and Hoversen was quickly connected with South Jersey growers like Kevin Flaim of Flaim Farms in Vineland, a large producer of eggplant and other vegetables in South Jersey. A process that already had made the most of connections to other area businesses became complete with the introduction of Flaim's eggplant and produce from other area farms.
"This just shows how you can make these connections," Murray said. "Here were two guys that were less than 50 miles apart, and they connected by us being in Chicago at FMI."
Now, from the farm to the table, the next prepared eggplant dish many people eat could have been grown, processed and packaged all in South Jersey.
Once COMARCO strips, batters and fries the eggplant, it is sent on to D'Orazio Foods, another South Jersey company that specializes in pasta and Italian food processing serving the retail, food service and ingredient trades. There, it becomes prepared dishes of eggplant parmigiana.
Besides their eggplant business, COMARCO also processes other Jersey Fresh vegetables like zucchini, yellow squash and green and red peppers, grilling and roasting that produce to sell to other processors as an ingredient or to the food service market.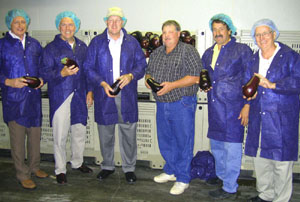 New Jersey Secretary of Agriculture Charles M. Kuperus recently visited the COMARCO operation with Murray and Flaim to get the inside story of how these elements came together to concoct a truly "Jersey Fresh" product.
Left to Right: Michael J. Novosel of D'Orazio Foods, Al Murray, Secretary Kuperus, Kevin Flaim, Tom Dauria of Stokes Seeds, and Tom Hoversen.

"This really is a success story of businesspeople making the most of their local connections," Secretary Kuperus said. "Especially with today's rising fuel prices, it helps that these companies, all working together, can be within such close proximity to each other. The savings on transportation and shipping costs help to make them more viable as part of the food and agriculture complex."