(TRENTON) – The images of devastation in Louisiana, Mississippi and Alabama had just begun showing up on the TV screen when New Jersey farmers started making their phone calls.
They were asking New Jersey Department of Agriculture (NJDA) officials what the state's farm community could do to help people who were displaced by Hurricane Katrina.
Being the down-to-earth, generous people they are, their first inclination was to make the donations as personal as possible by contributing the fruits (and vegetables and grains) of their labor to help feed those living in places like Houston's Astrodome and countless other temporary housing sites.
"That is the nature of our agricultural community in this state," New Jersey Secretary of Agriculture Charles M. Kuperus said. "When someone is in need, they respond to the call."
After many phone calls and much navigation through the highly structured federal relief effort, the Agriculture Department's Emergency Management Coordinator Holly Chmil learned that the most immediate need was for fresh apples. That request came from America's Second Harvest, one of the approved feeding groups working with the Federal Emergency Management Agency (FEMA) to collect and distribute food donations in a way that would result in the least waste.
"We had offers of everything from salad greens to sweet potatoes," said Daniel Wunderlich, NJDA Dairy Programs Administrator, one of the employees who coordinated gathering apples for the relief effort. "We're still pursuing ways of getting those other commodities to people, but the apple donation was something we could pull together fairly quickly."
"Fresh apples are a good thing to send because they have a good shelf life, they're nutritious and they can be picked up and eaten without any elaborate preparation," said Ron Good, Chief of the NJDA's Bureau of Market Development and Product Promotion.
And so the push was on to collect 1,008 forty-pound boxes of apples to load on a Second Harvest truck. More than a dozen farmers (listed below) throughout the state agreed to contribute apples. Approximately 70 boxes came from the orchards of State Board of Agriculture member Peter Melick.
"We were glad to help," Melick said. "We had the apples, they needed them. It was a natural fit."
Some farms needed help in picking what they wanted to donate, so the call went out again, this time for willing hands to pick apples. Agriculture Department employees, FFA chapter members, the state's Farmers Against Hunger group and Secretary Kuperus himself went into the orchards to pick and pack the needed apples. New Jersey's Office of the Public Defender also helped out by lending some of their employees who are Americorps volunteers to help pick apples at Zee Orchards in Glassboro.
One of those Americorps volunteers, Jacqueline Marte, allowed her 9-year-old daughter and 12-year-old son to take the day off from school to help pick.
"I wanted them to come out here and experience what it was like to volunteer your time and work to help people in need," Ms. Marte said.

Secretary Kuperus and Newton FFA Chapter members pack apples at Windy Brow Orchards in Newton
"This was a real team effort," Secretary Kuperus added. "So many people from so many different organizations came together to make this happen. Farmers from all over contributed apples. Glossy Fruit contributed over a thousand boxes to put the apples in. Everyone doing their part resulted in a very successful project."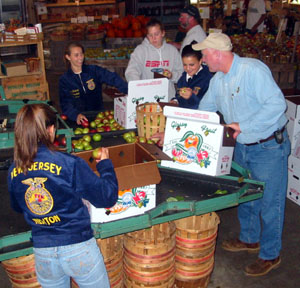 One of the largest picking efforts occurred on Thursday, September 29, at Zee Orchards. About 20 Agriculture Department and Americorps volunteers picked for about five hours, at times battling through a driving rain, to garner more than 250 boxes.
"We're more than happy to help with this kind of effort," Doug Zee Jr. said.
The apples from around the state – some in boxes, some in bins – were collected from the various farms by FFA volunteers and brought to Robson's Farm and Greenhouse in Wrightstown. On Saturday, Oct. 1, the loose apples were boxed up and added to those already in boxes to fill the big rig arranged by Second Harvest.
"It was a great community development effort, reflecting the FFA's mission for premier leadership, personal growth and career success and at least one of the FFA strategies, 'to build character, and promote citizenship, volunteerism and patriotism,'" said State FFA Advisor Nancy Trivette.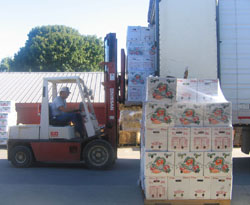 A crew of FFA members, Boy Scouts from Troop 91 in Hamilton Square, New Jersey, NJDA employees and Neil Robson took time out of their weekend to help with the packing and loading. Before the day was through, more than 80,000 apples were on their way to hurricane survivors living in temporary shelters.
"We will continue our efforts to help those in need," Secretary Kuperus said. "In disasters such as this, there's a tendency for relief projects to taper off after a few months as other news takes over the headlines. Yet these hurricane survivors will be displaced for many months to come and will continue to need assistance."
The New Jersey farmers contributing to the apple effort were:
Robson's Farm, Wrightstown
Zee Orchards, Glassboro
Sunny Slope, Bridgeton
Windy Brow, Newton
Delicious Orchards, Colts Neck
Melick's Town Farm, Oldwick
William Schober Sons, Monroeville
Strawberry Hill, Chesterfield
Mood's Farm Market, Mullica Hill
Wightman Farm, Morristown
Battleview Farms, Freehold
Johnson's Farm, Medford
Tony Russo, Tabernacle
Marilyn Russo, Chesterfield
FFA Chapters participating in the effort were:
New Jersey State FFA Association
Freehold Twp FFA Chapter
Northern Burlington Regional FFA Chapter
Allentown FFA Chapter
Newton FFA Chapter
Woodstown FFA Chapter
Cumberland Regional FFA Chapter