(TRENTON) – New statistics show that agriculture, food and natural resources is a burgeoning industry in New Jersey that is demanding a skilled workforce. The New Jersey Department of Labor and Workforce Development reports that there will be an average of 220 annual job openings in the landscaping and groundskeeping fields in Atlantic and Cape May Counties between now and 2010.
New Jersey Agriculture Secretary Charles M. Kuperus today encouraged school administrators and Agriculture, Food and Natural Resources Education (AFNR) teachers in Buena, Atlantic County, and Cape May Court House, Cape May County, to support their AFNR programs and guide their students to careers in agriculture.
"To sustain agriculture in New Jersey and keep it viable, we must ensure there are trained leaders and workers to take the industry into the future," said Secretary Kuperus. "Agricultural education programs like the ones in Buena and Cape May help to equip the next generation to manage tomorrow's food agriculture and environmental industries."
Secretary Charles M. Kuperus met with school officials and AFNR teachers and students and toured their facilities at Cape May County Technical School and Buena Regional High School.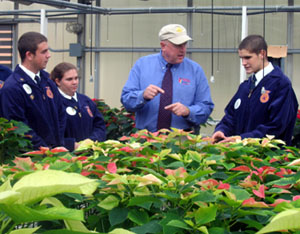 There are 48 students enrolled in the AFNR program at Cape May County Technical School. The school offers Natural Science Technology, which includes Wildlife Management, Aquaculture, Forestry, Environmental Science and Natural Resource Management, and Landscaping/Golf Course Management. Teacher Hans Toft has taught Marine Science for 35 years and was a commercial crabber and eeler. Teacher JoAnn Sopchak has been involved in landscape, garden center and nursery operations management for 23 years.
Secretary Kuperus tours greenhouse at Capey May County Technical School, led by Cape May FFA Officers.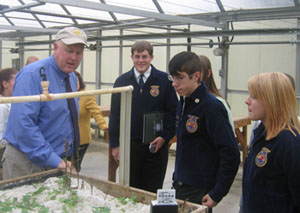 Sixty students are enrolled in AFNR courses at Buena, which include Aquaculture, Agriscience, Physical Agriculture Science, Horticulture, and Agriculture Biology. The Horticulture program is about 22 years old. Second-year teacher, Patricia Fanella, has three years of industry experience in garden centers.
"For students to get the background they'll need in the job market, they must have quality programs of instruction delivered by motivated teachers," said Secretary Kuperus. "By supporting AFNR programs in our schools, we hope to supply the industry with the skilled professionals it is demanding."
Secretary Kuperus views ivy plants in the Buena Regional High School greenhouse with Buena FFA Officers
.
New Jersey AFNR programs serve more than 2,200 students in 46 secondary school districts. A complete Agricultural Education program is composed of three components: class/lab instruction, supervised agricultural experience (SAE), and FFA, which provide a well-rounded and practical approach to student learning.
Buena Regional High School graduate Dan Delcher is the current State FFA Vice President. He is a freshman at Delaware Valley College and is studying agricultural education. There are 37 FFA chapters in New Jersey with 1,742 students. Buena Regional FFA has 22 members, while Cape May County VoTech has 39 members.
FFA is a national youth organization of 490,017 student members preparing for leadership careers in science, business and technology of agriculture with 7,210 local chapters in all 50 states, Puerto Rico and the Virgin Islands. FFA strives to make a positive difference in the lives of students by developing their potential for premier leadership, personal growth, and career success through agricultural education. Visit the New Jersey FFA website at www.state.nj.us/agriculture/rural/ag_education.htm for more information.
There is a demand for the labor in Agribusiness, Plant Systems, Animal Systems, Natural Resource Systems and Environmental Systems in Atlantic and Cape May Counties, according to the New Jersey Department of Labor and Workforce Development. In addition, it is expected that landscaping and groundskeeping workers will have a 19.6 percent employment growth in Atlantic County and a 17.5 percent growth in Cape May County.
Statewide between 2003 and 2004, employment in the industries of Support Activities for Agriculture and Forestry grew 21.7 percent and Fishing, Hunting and Trapping grew 8.3 percent.
Professional job opportunities in agriculture are going unfilled because there are not enough trained people to fill the jobs. A 2004 national study by the Cooperative State Research, Education, and Extension Service of the United States Department of Agriculture and Purdue University anticipated more than 52,000 annual job openings for new graduates in the food, agricultural and natural resources fields during the next five years. However, only 32,300 new graduates from colleges of agriculture and life sciences, forestry and veterinary medicine are expected to take jobs in the system.
"We can see there is a great demand for trained individuals who can take on leadership roles in agriculture, food and natural resource fields," said Secretary Kuperus. "I urge school administrators to continue to support agricultural education in their schools."