(CAPE MAY COURTHOUSE) – Hans Toft has gone down to Great Sound every day for the past 35 years and, he says, each day he learns something new. And that is what he has been passing on to his Agriculture and Natural Resources students at Cape May County Technical School in Cape May Courthouse.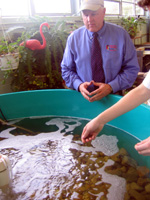 New Jersey Secretary of Agriculture Charles M. Kuperus toured Toft's classroom recently to highlight the need for new agriculture, food and natural resources professionals. In a classroom that looks more like an aquarium than a traditional schoolroom, students grow tilapia, and tend eels, sea bass and stripers. They even have a small shark in a tank that poked its head out of the water when Kuperus stopped to view it.
"To sustain agriculture in New Jersey and keep it viable, we must ensure there are trained leaders and workers to take the industry into the future," said Secretary Kuperus. "Agricultural and natural resources education programs like the one in Cape May help to equip the next generation to manage tomorrow's food, agriculture and environmental industries."
More than 1,000 students have passed through Toft's classroom over the last three decades and in the past 10 years the program has turned toward aquatic farming – or aquaculture, the growing of fish and shellfish. The students learn to grow and catch clams and oysters, grow tilapia and trap crabs. Toft says the program is unique in that it involves salt-water aquaculture, whereas other high school and many college aquaculture programs do not.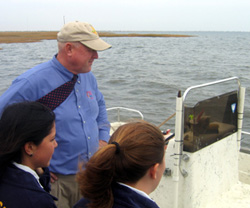 During his visit, the students led Secretary Kuperus on a tour of their classroom and a walk to Great Sound. Their enthusiasm for the program was evident as they eagerly showed the Secretary their work. They had just smoked eel and pulled off pieces for the Secretary to try.
Toft believes clams, oysters, crabs, eels and tilapia will be important to the aquaculture industry in the future. He says these are high value products without a negative environmental impact.
"It is important that students understand their connection with the land and the water," said Toft. "They are better able to understand that connection when they grow and then eat their food. When they know where their food has come from they can see that they must help keep the water and the land clean for future generations."
More than 2,200 students in 46 school districts around the state are enrolled in agriculture, food and natural resource education programs. The programs consist of three parts: class/lab instruction, field work, and FFA, a national youth organization, which prepares its members for leadership careers in science, business and technology of agriculture.
Secretary Kuperus stressed that hands-on training is vitally important for students wishing to enter the agriculture, food, and natural resources industries. And, the young adults in Toft's class find themselves out at Great Sound almost daily, checking oyster and clam racks, pulling up crab pots, or seining, the practice of fishing using a vertical net with weights at the lower end and floats at the top end. Daily, they must tend to the tanks in the classroom, testing and cleaning the water and feeding the fish. All fish and shellfish grown or caught is eaten, either by the class or teachers, or given to the food service students in the school to cook.
Toft says he works cooperatively with other teachers in the school, including JoAnne Sopchak, the agricultural education teacher, who is the Cape May FFA advisor. Science teacher James McKinley and his class built the outdoor trout ponds; the carpentry shop builds the clam and oyster racks; and Toft's class gives lessons to the English classes on "The Old Man and the Sea," explaining what a marlin is and using eels as bait.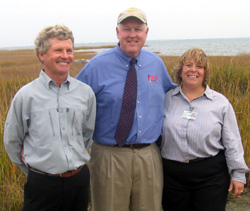 "Through this interdisciplinary approach, students learn valuable communications skills," said Toft.
New labor statistics show there is a demand for well-rounded workers in the agriculture, food and natural resources industries, especially those with skills learned in Ms. Sopchak's program. Her students learn horticultural and turf management skills, through turf, greenhouse and landscape management courses. Students grow poinsettias and other crops in the school's greenhouses, actively landscape the school grounds and prepare for careers in turf management such as golf course and recreational turf management.
Secretary Kuperus with Toft and Sopchak at the Great Sound.
The New Jersey Department of Labor and Workforce Development reports that there will be an average of 220 annual job openings in the landscaping and grounds keeping fields in Atlantic and Cape May Counties between now and 2010.
"For students to get the background they'll need in the job market, they must have quality programs of instruction delivered by motivated teachers," said Secretary Kuperus. "By supporting agriculture, food and natural resources programs in our schools, we hope to supply the industry with the skilled professionals it is demanding."