GOVERNOR CORZINE, AGRICULTURE SECRETARY KUPERUS OBSERVE NATIONAL HUNGER AWARENESS DAY
For Immediate Release:  June 6, 2006
Contact: Anthony Coley or Brendan Gilfillan
(609) 777-2600

(TRENTON) – Governor Jon S. Corzine and Secretary of Agriculture Charles M. Kuperus today observed National Hunger Awareness Day 2006 by sorting donated food at a Mercer County emergency food distribution center and attending an interfaith service at a Union County regional food bank. 

"There are more than a million people in New Jersey that struggle to feed themselves and their families each day," said Governor Corzine.  "We have an obligation to do everything we can to ensure that our fellow citizens are able to meet their most basic human needs."

With 1.6 million New Jersey residents eligible to receive food assistance through the state's current emergency food distribution system, Governor Corzine has proposed investing an additional $4 million in the next fiscal year to fight hunger.  This investment includes $3 million to help feed an additional 500,000 people and $1 million for infrastructure improvements to food distribution operations throughout the state.  In addition, the Department of Agriculture would work to improve the efficiency of the food delivery system. 

The Department operates the Emergency Food Assistance Program, which distributes food donated by the United States Department of Agriculture through a network of 660 food pantries, soup kitchens and other feeding operations.  Last year, the Department distributed more than 10 million pounds of the USDA commodities.

"National Hunger Awareness Day is a good time to remind people, as they start gearing up for their summer activities, that the problem of hunger is year-round," said Secretary Kuperus.  "While the Department coordinates the distribution of millions of pounds of food each year, sadly, it is not enough.  Governor Corzine's budget initiative will strengthen the Department's efforts to provide nutritious food for the hungry, as well as the continued support of organizations, businesses and individuals who assist their neighbors in need."

To highlight the plight of the hungry in New Jersey, Governor Corzine and Secretary Kuperus joined about 50 volunteers at Mercer Street Friends warehouse in Ewing to sort food collected during a letter carrier food drive in May.  The volunteers included a group of students from South Hunterdon High School FFA, a national organization that prepares young people for leadership and careers in the science, business and technology of agriculture. As part of the Farmers Against Hunger Program, which collects fresh fruits and vegetables from farms, farm markets, wholesalers and food distributors and distributes it to those in need, the students bagged almost 1,000 pounds of lettuce donated by Rutgers EcoComplex. 

Mercer Street Friends, a food cooperative that distributes 1.5 million pounds of food each year, reaching 17,000 needy individuals, will distribute the food sorted and bagged by the volunteers.  Each week, the organization doles out 30,000 pounds of food to 60 area agencies and food pantries that provide nourishment to children, adults and seniors at risk for hunger.

The Governor's Office of Volunteerism, through the Secretary of State's Office, provides a mechanism for all citizens to find opportunities to end hunger through service opportunities in New Jersey's large community food banks as well as soup kitchens and shelters at the county level. For citizens to learn more about hunger awareness and the location of New Jersey's food banks, they can go to www.secondharvest.org.

 "All citizens can play a role in eliminating hunger by volunteering through local community programs to feed families and individuals," said Secretary of State Nina Wells.  "This is an important time to support our food banks and help replenish their supplies to ensure that residents in need receive assistance."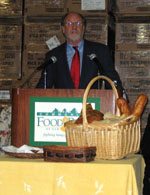 Another stop for Governor Corzine and Secretary Kuperus was an Interfaith Convocation at the Community FoodBank of New Jersey in Hillside.   U.S. Department of Agriculture Mid-Atlantic Regional Administrator Yvette Jackson and local clergy attended the public service, "The Face of Hunger Will Surprise You," which included music, prayers, readings and song.
The Community FoodBank of New Jersey, the largest of the Department of Agriculture's six contracted emergency food organizations throughout the state,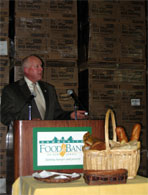 distributes food to more than 1,500 member agencies throughout the state, serving more than 500,000 low-income people annually.  The  agency distributes 23 million pounds of food and other groceries in 18 New Jersey counties, as well as 1.7 million pounds of fresh fruits and vegetables.
In New Jersey, 8.5 percent of the state's population and 11.8 percent of children live in poverty, according to the Census Bureau's American Community Survey in 2004.  A report by Second Harvest, Hunger in America showed that 40 percent of the households in New Jersey receiving emergency food assistance reported having to choose between paying for food or paying for their utilities, rents and mortgage bills.