Home
>
News
>
Press Releases
>
2006
>
SECRETARY CELEBRATES NEW JERSEY'S BOUNTY WITH VISITS TO ROSELLE PARK, RUTHERFORD FARMERS MARKETS
SECRETARY CELEBRATES NEW JERSEY'S BOUNTY WITH VISITS TO ROSELLE PARK, RUTHERFORD FARMERS MARKETS
For Immediate Release: July 26, 2006
Contact: Lynne Richmond  (609) 292-8896



(TRENTON) –New Jersey Agriculture Secretary Charles M. Kuperus today visited the Roselle Park and Rutherford Farmers Markets, where farmers brought New Jersey's bounty straight to local residents. 

The Roselle Park Farmers Market was started by the Borough nine years ago as part of downtown revitalization efforts. The market operates 1 to 6 p.m. on Wednesdays and has two farmers and a baked goods vendor.  Children's activities, such as pony rides or a petting zoo, also are offered.

"The Roselle Park market gives residents easy access to Jersey Fresh fruits and vegetables and other agricultural products, harvested at the height of freshness, to take home for healthy and nutritious summer meals," said Secretary Kuperus.  "This busy market also gives its farmers a new venue, keeping agriculture strong in the state."


In Roselle, Secretary Kuperus was joined by Assemblyman Eric Munoz.

"Community farmers markets are important to the state because we live in the Garden State, one of the best farming areas in the country," said Dr. Munoz.  "The Roselle market reminds us of our heritage, when the area was more rural."

Secretary Kuperus' next stop was Rutherford, to meet with organizers of the Borough's farmers market located in Williams Plaza, now in its ninth year of operation.

"We are at the height of the Jersey Fresh produce season and Rutherford residents and visitors have a front row seat at the Rutherford Farmers Market to experience the health benefits and taste the state's bounty," said Secretary Kuperus.  "In the many years this market has operated, the residents have gotten to know the farmers who produce their food and the farmers have found another market for their products, helping New Jersey agriculture to grow and thrive."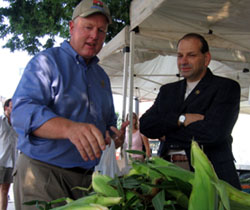 Secretary Kuperus was joined at the Rutherford Market by Assemblyman Fred Scalera.

"The Rutherford Farmers Market gives residents an opportunity to enjoy the freshest and safest produce, right in their own backyards," said Scalera.  "This market is a wonderful addition to our community and helps to keep New Jersey's agricultural industry strong."

SecretaryKuperus and Assemblyman Scalera at Rutherford Farmers Market

The Rutherford Farmers Market was started by Rutherford Downtown Partnership in 1998 to draw people to the downtown area.  The market operates 11 a.m. to 6 p.m. on Wednesdays and has two farmers, as well as several vendors who offer baked goods, pickles and frozen processed foods.

A 2005 study by Rutherford Downtown Partnership showed 1,000 people visited the market each week.  It also found that 80 percent of those visiting the market were patronizing other businesses while in the downtown area.

The number of markets in the state has been on the rise over the past few years. About 30 new markets have opened in the past four years, with six opening for this season in Freehold, Kearney, Clifton, Hackensack and two in Newark.  In total, there are more than 80 community farmers markets attended by approximately 250 farmers operating in nearly 75 municipalities in New Jersey. 

These markets participate in the Women, Infants, and Children (WIC) & Seniors Farmers Market Nutrition Program, which makes available locally grown fresh fruits, vegetables, and herbs to nutritionally at-risk pregnant, breast-feeding, or post-partum women; children two to five years old; and eligible seniors age 60 and older.  Eligible participants receive four $5 vouchers valid through November 30 to purchase locally grown produce from certified farmer vendors.  For more information on the Farmers Market Nutrition Program, visit www.nj.gov/agriculture/divisions/md/prog/wic.html.

In 2005, there were 64,250 WIC vouchers and 31,109 senior vouchers redeemed through the Farmers Market Nutrition Program.  There are currently more than 200 certified farmer vendors, who will benefit from nearly $2 million available through the U.S. Department of Agriculture. 

For complete information on locations, days and hours of community farmers markets throughout New Jersey, visit www.state.nj.us/jerseyfresh/searches/urban.htm.