AGRICULTURE, BIOTECHNOLOGY GOOD FIT FOR STUDENTS AT PROGRESSIVE HIGH SCHOOL
Biotechnology High School Charters State's 37th FFA Chapter
(TRENTON) – Agricultural education has grown to encompass a wide range of technological and scientific advances in the fields of agriculture, food and natural resources.  To prepare students to enter those fields, agricultural education can now be found in some of the most progressive educational institutions including the  new Biotechnology High School, a career academy in the Monmouth County Vocational School District.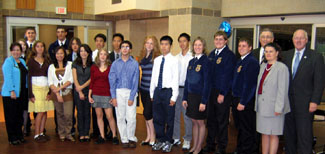 The state's 37th FFA chapter was chartered today at the high school in Freehold with New Jersey Secretary of Agriculture Charles M. Kuperus, acting Commissioner of Education Lucille E. Davy, and Dr. Larry Case, National FFA Advisor and Program Coordinator for the U.S. Department of Education, in attendance. 

"In order to ensure continued economic growth in New Jersey and the agricultural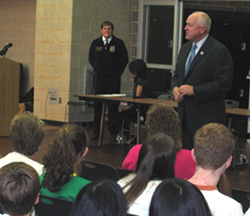 industry, specifically, we must strengthen students' math and science skills and align education and training strategies with employer needs in the industry," said Secretary Kuperus.  "There is a great need for new workers in the food, agriculture and natural resources industries in the state.  They need to possess the specialized skills Biotechnology High School is teaching its students, and the addition of an FFA chapter will help students develop leadership, personal and career skills to become the future leaders in these important industries." 

"The Department of Education is pleased to welcome New Jersey's newest FFA chapter at Biotechnology High School," said acting Commissioner Davy.  "Through this chapter, members will have opportunities to participate and develop their knowledge, skills and leadership, in local, state, national and international FFA programs.  I encourage the students to take full advantage of the opportunities FFA provides and strive for excellence in everything they do."   

Agricultural biotechnology education is an integral part of the curriculum at Biotechnology High School, which opened its doors to the first students in 2005.  Students receive extensive exposure to research and lab skills, ethical decision-making, critical thinking, problem solving and information technology.

School principal Linda Eno said the biotechnology of agriculture deals with the genetic modification of plants to increase output and reduce pesticide use and the adaptation of plants for difficult environments.  She said agriculture fits well with the mission of the school.

"We see agriculture as a fundamental application and career," said Eno.  "With the addition of an FFA chapter, students will be able to apply classroom theory and lab skills to real life situations through internships and experiential learning; then combine it with personal and leadership development to be ready for a college and career experience.  FFA also will provide top students with local, state and national recognition through awards and scholarships."

It is the mission of the Monmouth County Vocational School District to help create an able workforce for industry in New Jersey. The new high school attracts students who want a career academy experience, and students are selected through a stringent application process. For more information, visit the school's website at www.bths.mcvsd.org.

"We are very excited to offer the Biotechnology High School students an opportunity to join FFA and be part of the National FFA Organization," said Nancy Trivette, state FFA advisor and program leader for Agriculture, Food and Natural Resource Education in the New Jersey Department of Agriculture. "We think the FFA experience will complement the mission and goals of the school district and offer the students opportunities for premier leadership skills, personal growth and future career success."

In the past three years, five FFA chapters have been chartered in New Jersey:  Delsea Regional High School, Franklinville; South Hunterdon Middle School, Lambertville; Bergen County Technical High School, Paramus; Northern Burlington Middle School, Columbus; and Bankbridge Regional School, Sewell. 

The national youth organization, with 37 chapters and 1,684 students in New Jersey, prepares students for leadership and careers in the science, business and technology of agriculture.  FFA uses agricultural science education to develop students' potential and help them discover their talent. Through hands-on experience, members develop tools that help them achieve real-world success. They also learn life skills necessary to ensure the social, civic, and economic well being of New Jersey local communities.

Any student in grades 7-12 who is enrolled in an agriculture course at a public school may join FFA.  Nationally, there are 7,210 local chapters with 490,017 students in all 50 states, Puerto Rico and the Virgin Islands. FFA students can be found in every kind of community, from downtown Chicago to rural communities. More than 70 percent of the members are from rural non-farm, urban and suburban areas, with the remaining 30 percent coming from production farming communities.

A long-range strategic goal for the organization is by 2015 to have 10,000 quality agricultural science education programs serving students through an integrated model of classroom/laboratory instruction, experiential learning, and leadership and personal skill development. Further, all agricultural science students will be members of FFA and have a supervised agricultural experience that supports classroom and laboratory instruction.

FFA strives to make a positive difference in the lives of students by developing their potential for premier leadership, personal growth and career success through agricultural education. Visit www.ffa.org for more information.  For New Jersey FFA Association information, visit www.jerseyageducation.nj.gov.

FFA is just one way to develop a world-class workforce, which is one of Governor Jon S. Corzine's Economic Growth Strategies.  The strategies call for strengthening students' math and science skills, developing a world class higher education system, ensuring that education and training investments meet the workforce needs of New Jersey businesses and non-profit organizations, establishing high skills partnership institutes, creating high growth workforce investment grants to assist businesses to upgrade the skills of their employees and expanding training opportunities for workers.  The full report can be viewed at www.nj.gov/njbusiness/home/egs_final.pdf.