AGRICULTURE SECRETARY KICKS OFF CHRISTMAS TREE SELLING SEASON AT GRAND CHAMPION TREE FARM
Cut-Your-Own Tree Farms Open for Holiday Season
For Immediate Release: November 30, 2006
Contact: Lynne Richmond
(609) 292-8896

(WASHINGTON TOWNSHIP) – Heralding in the holiday season at New Jersey's choose-and-cut Christmas tree farms, New Jersey Agriculture Secretary Charles M. Kuperus ceremonially cut down a tree at McLaughlin Tree Farm in Robbinsville.  The tree will be donated to the Washington Township Senior Center in memory of George Probasco, the original owner of the farm.

A Norway spruce from McLaughlin Tree Farm was selected as New Jersey's Grand Champion Christmas tree in the 2006 Christmas tree contest held by the New Jersey Christmas Tree Growers' Association.  The contest took place in August at the Hunterdon County 4-H Fair. 

"Jersey Grown choose-and-cut Christmas trees are an important part of New Jersey's diverse agriculture and a significant part of our agritourism sector," said Secretary Kuperus.  "Farmers welcome thousands of families each year to their tree farms to make cutting down a Christmas tree a family tradition."

Besides winning the Christmas tree contest, McLaughlin Tree Farm received another honor this year; six of their trees are decorating the Governor's mansion, Drumthwacket, in Princeton.  Two white pines are flanking the front door of the mansion and two Canaan firs and two Douglas firs are decorated in different rooms inside the house.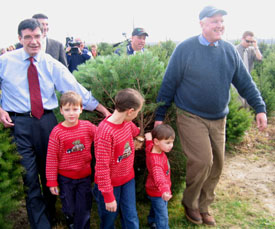 Farm owner Gregory McLaughlin, a first generation farmer, has been growing trees for almost 20 years.  After leasing farms in South Brunswick and Somerset, he and his wife, Deb, purchased the 39 acres of preserved farmland in 1999. They found the farm through the State Agriculture Development Committee's  Farm Link program, which connects farmland owners with farmers seeking access to land and farming opportunities. The farm is part of 150,000 acres of permanently preserved farmland in New Jersey.

This year is the inaugural season for choose-and-cut Christmas trees at McLaughlin Tree Farm.  The McLaughlins live on the farm with their four children.

"There is a tremendous physical, emotional and financial investment in a crop that takes eight years to bring to market," said McLaughlin.  "We are proud of our efforts and look forward to celebrating the holiday season with all who visit us this year."

McLaughlin has about 1,000 trees with five species available this season.  Overall, he has 17 different species of evergreens and 20,000 trees planted for the future.  He also grows nursery stock.

Having earned a Bachelor of Science in Forest Management and a Master's of Science in Plant Biology, focusing on Christmas tree production and culture, from Rutgers University, McLaughlin worked for several years as a program Associate in Forestry for Rutgers Cooperative Extension, doing research and management of Christmas tree plantations for Rutgers and private cooperator farms.

"While fresh Christmas trees are loved for their scent and their seasonal meaning, they also cleanse the air we breathe by consuming huge amounts of carbon dioxide and reintroducing large quantities of oxygen into the atmosphere," said Secretary Kuperus.  "Christmas tree farms are part of our Garden State's agricultural working landscape."

The 2002 U.S. Census of Agriculture ranked New Jersey seventh in the nation in the number of Christmas tree growers.  Of New Jersey's 9,924 farms, 1,167 were cut Christmas tree farms, covering 7,628 acres. Those New Jersey farmers provide more than 132,000 families with Christmas trees annually.

Beginning this season, Christmas tree growers may use the Jersey Grown brand for their trees.  To be part of the branding program, Christmas trees must be grown at least four years in New Jersey and meet or exceed U.S. Number 1 Standards for Christmas Trees.  For more information, visit www.nj.gov/agriculture/divisions/md/prog/jerseygrown.html.

The New Jersey Christmas Tree Growers' Association is a statewide organization of growers, professionals and industry leaders dedicated to the promotion and marketing of Christmas trees and related products.  It was organized in 1950 and has 200 members throughout New Jersey.

The New Jersey Christmas Tree Growers' Association suggests the following when selecting and caring for your Christmas tree:

Dress accordingly when shopping for that perfect tree. Wear comfortable, low-heeled shoes or boots for walking.
Select a tree that best fits your needs. Consider your ceiling height as well as the weight of your ornaments when determining the size and type of tree you choose. Remember that in the field, the sky is the ceiling, making trees appear smaller than they actually are.
Do a freshness test. Gently grasp a branch between your thumb and forefinger and pull it toward you. Very few needles should come off. Shake or bounce the tree on its stump. An excessive amount of green needles shouldn't fall to the ground. Some loss of interior brown needles is normal.
If you're not going to decorate your tree right away, place it in a container of water and store the tree in a cool, shaded area, sheltered from the wind, such as in a garage.
Before you bring your tree into the house, cut an inch from the stump. The fresh cut enables the tree to more readily take in water.
Place the tree in a tree stand filled with one quart of water for every inch in diameter of the tree trunk. The average six-foot tree has a trunk with a four-inch diameter, meaning the tree stand should hold one gallon of water.


Always keep the tree stand filled with water. Otherwise, a seal of dried sap will form over the cut stump and prevent the tree from absorbing any water. Fresh-cut trees absorb a pint to a quart of water each day. Check the water level daily and always keep it above the cut end of the tree.


Keep your tree away from heat and draft sources like fireplaces, radiators and television sets. Be sure your light cords and connections are in good working order. Be sure to unplug lights before you go to bed or leave the house.
To locate a choose-and-cut farm near you, visit the Jersey Fresh website at www.jerseyfresh.nj.gov or the New Jersey Christmas Tree Growers' Association's website at www.njchristmastrees.org.  For more information about Christmas trees, log on to the National Christmas Tree Association's website at www.realchristmastrees.org.