SECRETARY WELCOMES NEW COMMUNITY FARMERS MARKET IN FREEHOLD
(FREEHOLD BOROUGH) – Freehold Borough residents and workers in the downtown area can shop for fresh-from-the-farm produce and other Jersey Fresh products without traveling too far.  New Jersey Agriculture Secretary Charles M. Kuperus today visited the new Freehold Farmers Market, one of five new community farmers markets to open around the state this season.

"This new market in Freehold brings New Jersey's bounty, the freshest, locally grown produce and all its health benefits, directly to workers and residents in the downtown area," said Secretary Kuperus.  "Not only will the market benefit the surrounding community, but it will give farmers a new market opportunity to sell directly to consumers, keeping agriculture strong in the state."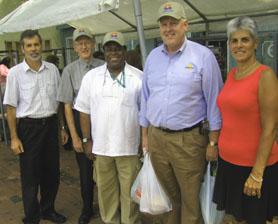 The Freehold Farmers Market is operated by the Freehold Center Partnership, which works to bring business into the downtown area.  The organization plans various events each week.  The market operates on Tuesdays from 12 p.m. to 6 p.m. and has two farmers and several vendors selling baked goods, flowers, and honey.


From left to right: Mike Page, Chairman of the Freehold Center Partnership, Ron Good and Damon Williams of the NJ Department of Agriculture, Secretary Kuperus and Jane Gursky

The number of markets in the state has been on the rise over the past few years. About 30 new markets opened in the past four years.  Besides Freehold, new markets opened this season in Kearney, Newark, Clifton and Hackensack.  In total, there are more than 80 community farmers markets attended by approximately 250 farmers operating in nearly 75 municipalities in New Jersey. 

These markets participate in the Women, Infants, and Children (WIC) & Seniors Farmers Market Nutrition Program, which makes available locally grown fresh fruits, vegetables, and herbs to nutritionally at-risk pregnant, breast-feeding, or post-partum women; children two to five years old; and eligible seniors age 60 and older.  Eligible participants receive four $5 vouchers valid through November 30 to purchase locally grown produce from certified farmer vendors.  For more information on the Farmers Market Nutrition Program, visit www.nj.gov/agriculture/divisions/md/prog/wic.html.

In 2005, there were 64,250 WIC vouchers and 31,109 senior vouchers redeemed through the Farmers Market Nutrition Program.  There are currently more than 200 certified farmer vendors, who will benefit from nearly $2 million available through the U.S. Department of Agriculture. 

For complete information on locations, days and hours of community farmers markets throughout New Jersey, visit www.state.nj.us/jerseyfresh/searches/urban.htm.