Home
>
News
>
Press Releases
>
2007
>
SECRETARY STRESSES IMPORTANCE OF BUYING LOCAL PRODUCE DURING VISITS TO NORTH JERSEY FARMERS MARKETS
SECRETARY STRESSES IMPORTANCE OF BUYING LOCAL PRODUCE DURING VISITS TO NORTH JERSEY FARMERS MARKETS
For Immediate Release: July 18, 2007
Contact: Lynne Richmond
(609) 633-2954

(TRENTON) –New Jersey Secretary of Agriculture Charles M. Kuperus today visited the Hackensack and New Providence Farmers Markets to highlight the importance of community farmers markets, which provide Jersey Fresh produce direct from the farm to local residents.

"The Hackensack and New Providence Farmers Markets are providing local residents with access a short distance from their homes to Jersey Fresh fruits and vegetables and other agricultural products," said Secretary Kuperus. "Those who shop at the markets also are helping to sustain New Jersey's agriculture industry by supporting our farmers."

The Hackensack Farmers Market, located in Johnson Park, was started last year as a joint venture by the Greater Hackensack Chamber of Commerce, Upper Main Alliance, and the City of Hackensack.  It operates on Wednesday, 11 a.m. to 6 p.m. the end of June through October 31 with two farmers, a baker and a vendor who sells pickles.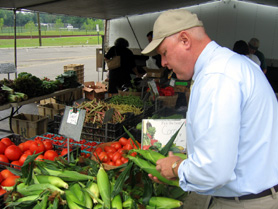 "The Chamber of Commerce wanted to bring something special to the community and encourage residents to shop in town," said Market Manager Darlene Damstrom.  "When they visit the market, they encounter friendly faces and get their fresh produce without driving far to do it."




Damstrom said the market received a Jersey Fresh Matching Grant this year from the Department of Agriculture to spend on promoting the Jersey Fresh brand at the market.  She said they used the $450 grant to incorporate the Jersey Fresh logo into their banners and advertisements. 

With successful community farmers markets in several neighboring towns, the New Providence Business and Professional Association opened a market of its own this year in the parking lot of the municipal building on Elkwood Avenue.  The market has three farmers and two additional food vendors.  The market operates on Wednesdays from 1 to 6 p.m.

The market was the brainchild of Gary Baron, a member of the New Providence Business and Professional Association, who had seen the positive impact of other nearby markets on their communities and wanted to bring more activity to the New Providence downtown area, which recently underwent $1 million in improvements, which included new sidewalks, lighting, landscaping and benches.

"People are excited about the market and we're seeing families and those who work in the downtown area shopping for produce there every week," said Baron.  "People understand the Jersey Fresh concept and that the produce they are getting at the market was just picked at the farm."

The New Providence market is one of eight new community farmers markets to open in New Jerseythis year.  The others are located in Camden, Haddonfield, Newark, Raritan, Ringwood, Seaside Park and Woodbridge.

In total, there are more than 95 community farmers markets attended by approximately 265 farmers operating in nearly 83 municipalities in New Jersey. 

These markets participate in the Women, Infants, and Children (WIC) & Seniors Farmers Market Nutrition Program, which makes available locally grown fresh fruits, vegetables, and herbs to nutritionally at-risk pregnant, breast-feeding, or post-partum women; children two to five years old; and eligible seniors age 60 and older.  Eligible participants receive four $5 vouchers valid through November 30 to purchase locally grown produce from certified farmer vendors.  For more information on the Farmers Market Nutrition Program, visit www.nj.gov/agriculture/divisions/md/prog/wic.html.

In 2006, there were more than 64,000 WIC vouchers and over 31,000 senior vouchers redeemed through the Farmers Market Nutrition Program.  Nearly $2 million is available through the U.S. Department of Agriculture for the program.

For complete information on locations, days and hours of community farmers markets throughout New Jersey, visit www.state.nj.us/jerseyfresh/searches/urban.htm.