Home
>
News
>
Press Releases
>
2007
>
AGRICULTURE SECRETARY ENCOURAGES DINERS TO ENJOY NEW JERSEY'S BOUNTY DURING FARM TO FORK WEEK AND ALL YEAR LONG
AGRICULTURE SECRETARY ENCOURAGES DINERS TO ENJOY NEW JERSEY'S BOUNTY DURING FARM TO FORK WEEK AND ALL YEAR LONG
For Immediate Release: July 20, 2007
Contact: Hope Gruzlovic
(609)984-2504

(CHERRY HILL) -- Agriculture Secretary Charles M. Kuperus today joined with chefs from the South Jersey Independent Restaurant Association to encourage diners to enjoy the best fruits, vegetables, seafood, wine and other food products from New Jersey's farms and shore during Farm to Fork Week July 22-27 and all year long.

"There are no better spokespeople for New Jersey's great-tasting farm and seafood products than our own discriminating restaurant chefs," said Secretary Kuperus. "We're pleased they have dedicated this week – at the height of the growing season – to showcase the wonderful variety and highest quality of food harvested at its peak every day and delivered fresh to our local restaurants."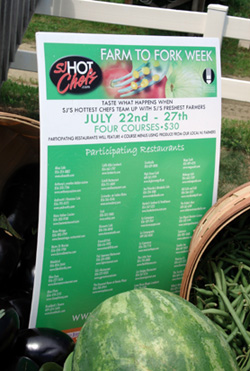 Approximately 40 independent South Jersey restaurants are participating in Farm to Fork Week, presented by the South Jersey Independent Restaurant Association (also known as SJ Hot Chefs). Each restaurant will offer a four-course dinner, priced at $30 per person, featuring a unique four-course menu, with each individual dish highlighting a specific locally grown product. Farmers will be available at various restaurants during the week to educate diners on the benefits of using locally grown products and provide information on how these products are grown and harvested.

A list of restaurants participating in Farm to Fork Week and more information is available on the SJ Hot Chefs' website at www.sjhotchefs.com.

"The purchase of locally grown farm products – whether by a restaurant or a consumer at a supermarket or farm market – supports our local farms, and nothing is more important in retaining our farmland than supporting our farmers," said Secretary Kuperus. "Buying locally also reduces our impact on the environment by reducing food miles – the distance food has to travel to reach us. And of course, by buying close to home we know we're getting the freshest, best-tasting food available."   

According to the Leopold Center for Sustainable Agriculture at Iowa State University, food travels an average of 1,500 miles from producer to end-user. Using locally grown products reduces the carbon dioxide emissions and shipping costs associated with transporting food over long distances.

Among those joining Secretary Kuperus and South Jersey Independent Restaurant Association President Robert Minniti today at Springdale Farms in Cherry Hill to promote Farm to Fork Week were some of the participating chefs and farmers, including Lou Imbesi from Catelli Restaurant in Voorhees, Joe Palombo of Mirabella Café in Cherry Hill, Anthony Iannone of Anthony's in Haddon Heights, Fred Kellermann of Elements Café in Haddon Heights, Richard Marsh of Andreotti's Viennese Café in Cherry Hill, Lydia Cipriani and Mark Smith of The Tortilla Press in Collingswood, Kevin Meeker of Cork in Westmont, Joe Stewart of GG's in Mount Laurel, Amy Hunter of Hunter's Farm in Cinnaminson, Bob Muth of Muth Family Farm in Williamstown, John Ebert of Springdale Farms in Cherry Hill, as well as Marc Albrecht from Seashore Produce.

In a related program, the New Jersey Department of Agriculture distributes signs for restaurants in the state to display notifying patrons that the Garden State's bounty is being served in those establishments.  For more information, visit www.jerseyfresh.nj.gov.