FEDERAL, STATE OFFICIALS COMMEMORATE FARMERS MARKET WEEK AT OCEAN COUNTY MARKET
For Immediate Release: August 8, 2007
Contact: Lynne Richmond
(609) 633-2954

(TOMS RIVER) – New Jersey Secretary of Agriculture Charles M. Kuperus and Kate Houston, Deputy Under Secretary for Food, Nutrition and Consumer Services, United States Department of Agriculture (USDA), today celebrated National and State Farmers Market week with a visit to the Toms River Farmers Market.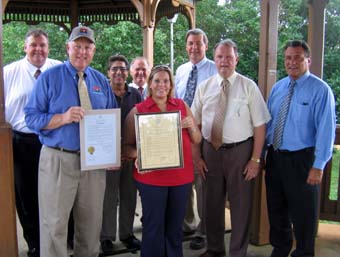 Kuperus presented the organizer of the market, Downtown Toms River, the town's business improvement organization, with a proclamation signed by Governor Jon S. Corzine declaring the week of August 5 through 11, 2007 as Community Farmers Market Week in New Jersey.  Houston likewise presented a proclamation from USDA Secretary of Agriculture Mike Johanns pronouncing the week National Farmers Market Week. 

"Community farmers markets help ensure the vitality of our state's farms, which is good for local economies, good for consumers and good for our state's citizens," said New Jersey Governor Jon S. Corzine.  "Many communities find it rewarding to invest in local markets as a component of economic development and are realizing benefits from the increase in visitors to their towns."

"Farmers Market Week showcases the great service these markets across the state provide to local residents who might not otherwise have access to healthy and delicious Jersey Fresh fruits and vegetables grown by our state's farmers," said Secretary Kuperus.  "Meeting and interacting with the farmers who grows the food also develops in consumers a special bond of trust in the integrity and accountability of our growers."



The number of markets in the state has been on the rise over the past few years. About 40 new markets have opened in the past five years, with eight opening this season in Camden, Haddonfield, Newark, New Providence, Raritan, Ringwood, Seaside Park and Woodbridge.  In total, there are more than 95 community farmers markets attended by approximately 265 farmers operating in nearly 83 municipalities in New Jersey. 

Nationwide, USDA reports more than 4,500 farmers market are currently operating throughout the nation – a record number, up from 2,800 in the year 2000.  Sales generated by farmers markets have been estimated to exceed $1 billion a year, with most of the money going directly to small family farmers.

"Farmers' markets are important to our communities and our economy," said Deputy Under Secretary Houston.  "These markets offer a convenient means for individuals to obtain fresh, nutritious foods while supporting their local farmers."

As Deputy Under Secretary, Houston is responsible for improving the health and well-being of Americans by developing and promoting science-based dietary guidance and administering USDA's 15 nutrition assistance programs. Food, Nutrition and Consumer Services programs work to end hunger in the United States and provide nutrition assistance, dietary guidance, nutrition policy coordination, and nutrition education.

The WIC & Seniors Farmers Market Nutrition Program makes locally grown fresh fruits, vegetables, and herbs available to nutritionally at-risk pregnant, breast-feeding, or post-partum women; children two to five years old; and eligible seniors age 60 and older.  Eligible participants receive four $5 vouchers valid through November 30 to purchase locally grown produce from certified farmer vendors.  For more information on the Farmers Market Nutrition Program, visit www.nj.gov/agriculture/divisions/md/prog/wic.html.

In 2006, there were more than 64,000 WIC vouchers and over 31,000 senior vouchers redeemed through the Farmers Market Nutrition Program.  Nearly $2 million is available through the U.S. Department of Agriculture for the program.

The Toms River Farmers Market, located in Huddy Park along the Toms River, has five farmers, including two farmers offering organic produce.  The market also features vendors who offer breads and pastries, pickle products, honey products, nuts and candy and flowers. 

"As Toms River and Ocean County's downtown, we are delighted to be able to provide such a successful Farmers Market," commented Frank Capone, Chairman of the Board of Downtown Toms River. "And we feel very privileged to be honored by having Secretary Kuperus recognizing National Farmers Market Week by visiting our market."

In an effort to ensure more area senior citizens have access to local, fresh produce, Ocean County and Township of Toms River officials celebrated Farmers Market Week by distributing Seniors Farmers Market Nutrition vouchers to prequalified seniors from Manchester, Berkeley and Toms River.  The seniors were then given the opportunity to purchase produce from farmers at the Toms River market using the vouchers. 

The Toms River Farmers Market operates on Wednesdays from noon to 6 p.m. through October 24.

For complete information on locations, days and hours of community farmers markets throughout New Jersey, visit www.state.nj.us/jerseyfresh/searches/urban.htm.

 

PROCLAMATION

WHEREAS, New Jerseyans eagerly await for the peak of the state's agricultural production in July, August, September, and into October; and

WHEREAS, there are community farmers' markets in the Garden State where consumers can shop throughout the week for the finest Jersey Fresh fruits, vegetables, herbs and Jersey Grown flowers as well as nursery stock; and

WHEREAS, in the past several years there has been a resurgence of community farmers' markets, resulting in the establishment of more than 95 such markets, with approximately 265 farmers in attendance, displaying their bounty in 83 municipalities in New Jersey; and

WHEREAS, community farmers' markets improve the quality of life for our residents while enhancing the economic viability of the cities in which they are established; and

WHEREAS, these community farmers' markets create a great venue for our farmers to help keep New Jersey green and growing; and

WHEREAS, farmers' markets offer a convenient, enjoyable way for people to shop for nutritious Jersey Fresh fruits, vegetables and other farm products; and

WHEREAS, farmers' markets provide a wholesome venue for consumers to learn more about farming in the Garden State while meeting the farmers who grow the produce they and their families enjoy; and

WHEREAS, this direct contact between customers and growers, enables farmers to keep pace with the ever-changing tastes and preferences of their customers; and

NOW, THEREFORE, I, Jon S. Corzine, Governor of the State of New Jersey, do hereby proclaim


August 5 to August 11, 2007

As

FARMERS' MARKET WEEK

in New Jersey, and encourage all citizens to visit farmers' markets wherever they live or work and reap the benefits of Jersey Fresh fruits and vegetables.