RECREATIONAL AND EDUCATIONAL ACTIVITIES ON FARMS ADD MILLIONS TO NEW JERSEY ECONOMY
Study Shows Agritourism Major Revenue Generator for Farmers
For Immediate Release: September 17, 2007
Contact: Lynne Richmond 
(609) 633-2954

(TRENTON) – New Jersey Secretary of Agriculture Charles M. Kuperus today joined with Secretary of State Nina Mitchell Wells at Johnson's Corner Farm in Medford at the beginning of the fall agritourism season to announce that agritourism generated $57.5 million in revenue for the state's farmers last year, according to a new Rutgers University study.

"We have always known that New Jersey's farms are wonderful family and school destinations, providing memorable, fun days and educating children about the importance of farming in our state," said Secretary Kuperus.  "Now we have numbers that show that agritourism is helping to sustain a thriving agriculture in New Jersey, generating economic benefits for both farmers and the state on a whole."

Agritourism is broadly defined as the business of establishing farms as travel destinations for educational and recreational purposes.  Activities include hayrides, corn mazes, pick-your-own produce, farm stands, school tours, farm festivals, and winery tours. 

"Agritourism is a critical aspect of our larger, $37 billion dollar tourism industry," commented Secretary of State Wells. "Beautiful and scenic farmland is a trademark of every county in New Jersey, and visitors are never far from enjoying wonderful produce, horse farms, quaint country shops and so much more."

The study was based on a statewide survey conducted by the New Jersey Agricultural Statistics Service, funded by the New Jersey Department of Agriculture and the Rutgers Food Policy Institute at the New Jersey Agricultural Experiment Station.  It follows a study released in October 2006 which found agritourism is critical to ensuring the current and future viability of agriculture and that many farms in the state have turned to agritourism as a way to increase revenue.  That report can be found at www.nj.gov/agriculture/pdf/ATReport.pdf.

The 2007 study found that more than one-fifth of New Jersey farms offered some form of agritourism, with 43 percent of New Jersey's total farmland associated with farm operations engaged in agritourism.

"In New Jersey and across the United States, agritourism is emerging as an important strategy for bolstering farm profitability," said Brian Schilling, Food Policy Institute Associate Director.  "The popularity of agritourism reflects the fact that it offers benefits to farmers and the public by generating additional income, enabling farmers to diversify product lines and markets, and raising awareness and understanding of the state's agrarian heritage, food production and resource stewardship."

In addition to revenues for farmers, the Rutgers study team found that for every dollar in agritourism sales generated on a New Jersey farm, 58 cents of additional sales are generated in a wide range of other allied businesses, such as restaurants, construction companies and insurance providers.  Therefore, agritourism created an additional $33.3 million in revenue in other non-farm businesses in 2006.  That, together with the on-farm revenue, brought the revenue impact of agritourism to the state to almost $91 million last year.

Other key findings in the survey included:
The average agritourism income reported by farms with agritourism activities was $27,093 in 2006.
36 percent of farms with agritourism earned 100 percent of their total farm income from agritourism.
52 percent earned at least half of their farm income from agritourism.
19 percent of farms reporting agritourism did not earn any revenue from agritourism activities, finding value in the opportunity to engage in interactions with the public that promote awareness, appreciation and understanding of agriculture.
The New Jersey study, which can be viewed by clicking here,  is only the second known survey quantifying the economic impact of agritourism in a state. A 2002 study found that the revenue generated on Vermont farms from agritourism-related activities was $19.5 million.

The family-owned and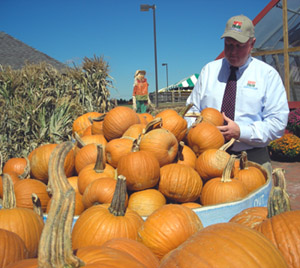 operated Johnson's Corner Farm offers a retail farm market, bakery, pick-your-own apples and pumpkins, hayrides, school tours, a discovery barnyard for children, and other agritourism activities.  The 96-acre farm was permanently preserved in 2002. The Farm market and the entire site were, redesigned, expanded and renovated to accommodate their growing agritourism business.


"Agritourism retains the working agricultural landscape, enhancing the quality of life in New Jersey and expanding recreational opportunities," said Secretary Kuperus.  "By keeping farm families on the land, we ensure that consumers will have access to fresh, locally-produced farm products and agricultural experiences now and into the future."

To find activities planned this fall on New Jersey farms, visit www.jerseyfresh.nj.gov, www.visitnjfarms.org, and www.visitnj.org websites.