JERSEY FRESH PRODUCE ABUNDANT AT JERSEY CITY FARMERS MARKET
Secretary Says Fall a Good Time to Visit State's Farmers Markets
For Immediate Release: September 18, 2007
Contact: Lynne Richmond
(609) 633-2954

(TRENTON) – With a wide variety of Jersey Fresh produce, such as cabbage, eggplant, herbs, leeks and green onions, tomatoes, arugula, and peppers, in season, New Jersey Secretary of Agriculture Charles M. Kuperus today reminded residents that most community farmers markets throughout the state will be open until at least the end of October bringing fresh from the farm items directly to consumers.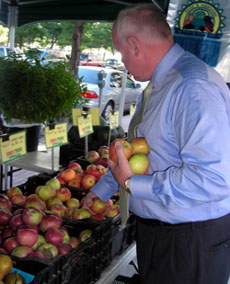 Kuperus visited the bustling Newport Pavonia Farmers Market in Jersey City, where farmer Dale Davis sells his fresh produce Tuesdays, Thursdays and Saturdays from 11 a.m. to 7 p.m. through November 20. 

"Downtown markets such as Newport Pavonia provide local residents with access to fresh vegetables and fruits, which are so important for good nutrition," said Secretary Kuperus.  "By purchasing Jersey Fresh produce, these residents are helping farmers stay on their farms and preserve the state's agricultural working landscape."

Meg Cohen, a fashion designer who lives in Jersey City, started the Newport Pavonia Farmers Market in 2003.

"Community farmers markets improve the quality of life for residents who live in urban areas," said Cohen.  "They provide local residents with the ability to purchase the fresh, healthy produce that might not be available to them otherwise."

Newport Pavonia is one of 95 community farmers markets open in 83 New Jersey towns this year.  About 265 farmers attend those markets.

The number of markets has been increasing steadily over the last several years.  This year, eight new markets opened, inNew Providence, Camden, Haddonfield, Newark, Raritan, Ringwood, Seaside Park and Woodbridge.

The markets participate in the Women, Infants, and Children (WIC) & Seniors Farmers Market Nutrition Program, which makes available locally grown fresh fruits, vegetables, and herbs to nutritionally at-risk pregnant, breast-feeding, or post-partum women; children two to five years old; and eligible seniors age 60 and older.  Eligible participants receive four $5 vouchers valid through November 30 to purchase locally grown produce from certified farmer vendors.  For more information on the Farmers Market Nutrition Program, visit www.nj.gov/agriculture/divisions/md/prog/wic.html.

In 2006, there were more than 64,000 WIC vouchers and over 31,000 senior vouchers redeemed through the Farmers Market Nutrition Program.  Nearly $2 million is available through the U.S. Department of Agriculture for the program.

For complete information on locations, days and hours of community farmers markets throughout New Jersey, visit www.state.nj.us/jerseyfresh/searches/urban.htm.