HUNTERDON COUNTY RECEIVES ANIMAL DISASTER TRAILER DURING NATIONAL PREPAREDNESS MONTH
For Immediate Release: September 27, 2007
Contact: Lynne Richmond
(609) 633-2954



(TRENTON) – As New Jersey participates in National Preparedness Month, the Hunterdon County Office of Emergency Management today received an animal disaster response trailer filled with everything needed to quickly set up a temporary animal shelter during disasters. 

The trailer is the sixth to be given out in the state by the New Jersey Department of Agriculture, which purchased and stocked the trailers using a United States Department of Homeland Security grant given to the Department through the state Office of Homeland Security and Preparedness.

"The events of Hurricane Katrina in New Orleans and Mississippi two years ago, where thousands of displaced animals needed assistance, highlighted the necessity for emergency planning, trained volunteers and equipment and supplies to respond to the needs of animals," said Secretary Kuperus.  "This trailer will enable Hunterdon County's Animal Response Team (CART) to train and exercise and be ready to respond in times of disaster."

The goal of National Preparedness Month is to increase public awareness about the importance of preparing for emergencies and encourage individuals to get involved.

"As we observe September as National Preparedness Month, it is vital to remember that the welfare of citizens and their pets and livestock is inextricably linked," said Richard L. Cañas, Director of New Jersey's Office of Homeland Security and Preparedness.  "When it comes to disasters, people often will not evacuate without their animals.  Today's distribution of this trailer represents the continued implementation of New Jersey's plans to care for pets and livestock in emergency situations as well as another step forward in the state's overall preparedness."

The Hunterdon County CART was formed in January of 2007 from the existing Franklin Township CART.  The 25-person team has had some experience in disaster response, after setting up a temporary animal shelter for displaced pets when floods in Lambertville and Stockton forced evacuations in April of 2006.  In addition, Deputy Hunterdon County CART Director Linda Gage spent several weeks assisting in the rescue effort for pets left behind from Hurricane Katrina.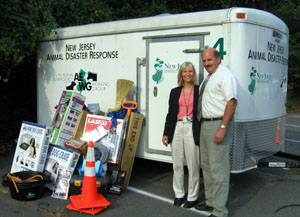 "Communities and local rescue workers often become overwhelmed by natural disasters and animal crises beyond their capacity," said Ken Mandoli, Hunterdon County CART Director.  "By partnering with government agencies, local animal shelters, county parks, emergency personnel and private organizations like the Red Cross, CART of Hunterdon County can provide emergency sheltering and disaster relief for animals.

"Volunteer team members need equipment and supplies to accomplish these tasks.  Being a new team, our funds are limited and up to this point, we have depended on donated items from the public.  The New Jersey Department of Agriculture was kind enough to award the Hunterdon County CART with a trailer, fully equipped with items to help us in accomplishing our goals."

The trailers fulfill a state strategy of having animal disaster resources placed around the state that can be mobilized quickly in emergencies.  Five other trailers were given to the Offices of Emergency Management in Burlington, Camden, Hudson, Ocean and Sussex Counties in December, enabling each county's CART to respond and provide care for animals in disasters or emergencies.   If the need arises, these animal disaster response trailers can be moved throughout the state to provide assistance.

To receive a trailer, the counties had to meet specific qualifications of having an active CART, having an updated animal emergency response plan, and be willing to provide mutual aid to other counties.

The two types of trailers, emergency shelter and veterinary care, were outfitted to meet different needs that arise during a disaster.  Some of the items included in the trailers are: dog and cat cages, an alternate power source and lighting, communications equipment, buckets, cleaning supplies, portable corrals, leashes, animal first aid kits, livestock halters and leads, registration/office supplies and safety equipment.  In addition to those items, the veterinary trailers each have tents that enable the CART to set up a clinic for emergency veterinary care.

The total cost of each fully outfitted veterinary trailer was $22,000 and the cost for each shelter trailer and its contents was $12,000. 

The trailer project was a cooperative effort between the Department of Agriculture, New Jersey State Police Office of Emergency Management, and the New Jersey Office of Homeland Security and Preparedness.

"Through our rescue efforts in New Orleans following Hurricane Katrina, we learned that animal owners will not evacuate--even in the face of serious danger--until their pets are taken care of," said Major John Hunt of the New Jersey State Police.  Major Hunt commanded Operation L.E.A.D. (Louisiana Emergency Assistance Deployment) in which hundreds of New Jersey law enforcement officers and emergency workers rescued people and pets, recovered deceased victims and provided police services in the wake of the disaster.  "Animals are like family members to some people, and unless you are ready to take homeowners out in handcuffs, rescue workers need to be prepared to evacuate pets along with their owners."

The New Jersey Department of Agriculture urges those with animals to plan ahead and be prepared.  Visit www.nj.gov/agriculture/divisions/ah/prog/emergency_preparedness.html to learn ways to protect your animals.  For those interested in volunteering to help animals during disasters, please contact your county Office of Emergency Management to join the CART.