Home
>
News
>
Press Releases
>
2007
>
NATIONALLY RECOGNIZED COLLEGE HORTICULTURE PROGRAM BUILDING STRONG PATHWAY TO CAREERS IN AGRICULTURE
NATIONALLY RECOGNIZED COLLEGE HORTICULTURE PROGRAM BUILDING STRONG PATHWAY TO CAREERS IN AGRICULTURE
For Immediate Release: October 17, 2007
Contact: Lynne Richmond
(609) 633-2954

(TRENTON) – At a time when there is a demand for well-rounded workers in the agriculture, food and natural resources industries, New Jersey Secretary of Agriculture Charles M. Kuperus today commended one of the nation's top college landscape and horticulture programs for its success in preparing students to enter the growing green industry.

Secretary Kuperus toured the County College of Morris' Landscape and Horticultural Department, which was selected one of the six best post-secondary Agriculture Programs in the country by the National Association of Agricultural Educators. 

"For students to get the background they'll need in the job market, they must have quality programs of instruction delivered by motivated teachers at both the high school and college levels," said Secretary Kuperus.  "Many students interested in the landscape and nursery industry begin their studies with agricultural education programs in high school, and post-secondary programs like the one at the County College of Morris provide a seamless path for these students to find careers in those fields."

The award from the National Association of Agricultural Educators (NAAE) recognizes the accomplishments of the faculty and students as well as the strengths of the educational program and services provided to both the general community and horticulture professionals. 

The County College of Morris (CCM) was judged against all schools in NAAE's Region VI, which includes all of New England and the Mid-Atlantic – a total of 13 states – with 2-year postsecondary institutions and full-time young farmer and adult programs.  In previous years, most award recipients were programs which focused on production agriculture or agricultural mechanics – more traditional Agricultural Education areas. This is the first time that a college in New Jersey has been selected to receive this NAAE award, which will be presented at the organization's convention in December.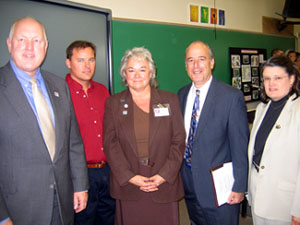 The Landscape and Horticultural Technology Department at CCM is chaired by Jan-Marie Traynor, who has 30 years experience in the classroom. 

"We work closely with secondary agricultural education programs to help ensure a smooth transition from high school through college into careers," said Traynor.  "I have seen my students achieve in our program and go on to achieve as professionals, with many becoming leaders in their industry, owning large landscape companies or serving as key staff in landscape companies."

The Landscape and Horticultural Technology (LHT) program at the college was started in 1980 and offers degrees in Agribusiness, Landscape Management and Design, and Turf Management as well as seven career certificates, including Landscape Contractor and Garden Center Management. LHT-CCM is closely aligned with professional landscape associations including the New Jersey Nursery and Landscape Association, Professional Landscape Alliance of New Jersey, and Association of Professional Landscape Designers.    

Professional Landscape Alliance of New Jersey (PLANJ) President Tony Catanzaro went on to own Regency Landscape in Millington after going through the LHT program at CCM.

"Being a graduate of the program and a strong advocate over the years it is truly a pleasure to see Jan Traynor and the program receive such national accolades," said Catanzaro.  "Her continued support of the PLANJ and our industry has created an important bridge between her students and our members that enhances both of their experiences."

The LHT program has worked closely with secondary horticulture programs in Sussex, Warren, Hunterdon, Essex, Union, and Somerset counties, serving as a resource for teachers, providing opportunities for high school students to visit, and working closely with the State Office of Agricultural Education to provide support to the FFA activities throughout the state.

"New Jersey has a strong secondary agricultural education program with classroom instruction, supervised agricultural experience and the FFA student organization, which prepares students for leadership and careers in the science, business and technology of agriculture," said Secretary Kuperus.  "Consistent with Governor Jon S. Corzine's effort to build a world class workforce, county college programs like that in Morris help students transition from high school to a strong college program into successful careers."