Home
>
News
>
Press Releases
>
2008
>
NJ DEPARTMENT OF AGRICULTURE KICKS-OFF 12TH YEAR OF NURSERY AND GREENHOUSE PLASTIC RECYCLING PROGRAM
NJ DEPARTMENT OF AGRICULTURE KICKS-OFF 12TH YEAR OF NURSERY AND GREENHOUSE PLASTIC RECYCLING PROGRAM
For Immediate Release: February 20, 2008
Contact: Lynne Richmond
(609) 633-2954

(TRENTON) – New Jersey Secretary of Agriculture Charles M. Kuperus and the New Jersey Nursery and Landscape Association today teamed up at Johnson Farms in Deerfield to encourage agricultural operations to recycle plastics. 

"Recycling agricultural plastics is an important component to the overall sustainability of New Jersey's agriculture industry, both economically and environmentally," said Secretary Kuperus.  "Farmers practicing good stewardship of the land and throughout their enterprise by reducing waste and recycling and reusing as many materials as they can is not only good for business but also good for the environment.  Our agricultural plastics recycling program helps farmers attain those stewardship goals."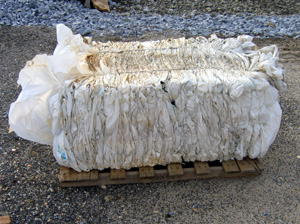 Keith MacIndoe of Johnson Farms, a 2,000-acre nursery and sod farm, demonstrated a film baler for members of the South Chapter of the New Jersey Nursery and Landscape Association (NJNLA).  The baler takes poly house cover and bales it into manageable 2 by 4 foot bales, similar to a bale of straw, to assist in recycling this material. 

Johnson Farms was honored by the State Department of Environmental Protection last year for its steps to recycle plastic, starting with plastic film.  Johnson Farms received the Annual Recycling Leadership award.  In 2006, the operation initiated a program to recycle plastic nursery pots and plastic netting and last year began a plastic pesticide container recycling program.

The New Jersey Department of Agriculture has facilitated a year-round nursery and greenhouse film collection and recycling program since 1997.  Such film is plastic that is used to cover greenhouses for environmental control and hoop houses for over-wintering of nursery material.  In 2007, 715,000 pounds of film was recycled by Garden State growers, resulting in growers saving almost $15,000 in landfill tipping fees.  In addition, individual growers sold used film directly to vendors last year for more than $32,000 and saved more than $11,000 in tipping fees. 

Since the program began, growers have recycled more than 5.5 million pounds of film, making it one of the most successful nursery and greenhouse film recycling programs in the nation. 

The New Jersey Nursery and Landscape Association continually works with the Department to increase participation in the program and identify opportunities for recycling.  The NJNLA has regularly hosted seminars on recycling for the nursery and landscape industry. 

"The NJNLA is pleased to work with the Department of Agriculture and recyclers to insure that our members are kept abreast of recycling opportunities in New Jersey and to improve the overall sustainability of our industry's production methods," said Carl Nordstrom, Executive Director of the NJNLA.

New Jersey's year-round nursery and greenhouse film collection and recycled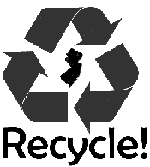 program is entering its 12th year of operation.

Both white and clear nursery film and clear multi-season (two-year, three-year, and four year) greenhouse covers can be recycled. Film must be free of lathing, staples and saran. Loads containing other agricultural plastics, such as bags, mulch film, shrink film, stretch film, drip irrigation or ground cover film, will be rejected at the collection sites.

The two regional sites that accept film year-round are the Burlington County Occupational Training Center in Mount Holly and the Cumberland County Solid Waste Complex in Deerfield. Out-of-state growers can take their used film to the Mt. Holly site, whereas the Cumberland site will only accept New Jersey growers' film.  Both collection sites are easily accessible from major highways.

Vehicles used to transport the greenhouse and nursery film intra or interstate are not required to be licensed by the New Jersey Department of Environmental Protection as long as the used film is transported directly to one of the two collection sites participating in New Jersey's nursery and greenhouse film recycling program.

In addition to the nursery and greenhouse film recycling program, the Department also offers plastic pesticide container and drip irrigation tape recycling.  For detailed information, call (609) 984-2506 or visit the Department's agricultural recycling web page at:www.nj.gov/agriculture/divisions/md/prog/recycling.html.