STATE AND NATIONAL AGRICULTURE OFFICIALS CELEBRATE SCHOOL BREAKFAST WEEK
Read Across America Day Also Marked
For Immediate Release: March 3, 2008
Contact: Lynne Richmond
(609) 633-2954

(PERTH AMBOY) – Stressing the importance of healthy eating and being a good reader, New Jersey Secretary of Agriculture Charles M. Kuperus and Deputy Regional Administrator Patricia Dombroski, Deputy, Mid-Atlantic Regional Administrator, United States Department of Agriculture Food and Nutrition Service, today celebrated National School Breakfast Week and Read Across America Day with fourth grade students in Perth Amboy.

Kuperus and Dombroski joined about 20 students as they ate their breakfast of cereal, mini-carrot loaves, juice and milk at Anthony V. Ceres Elementary School.  The officials then read stories to the children about good nutrition and living a healthy lifestyle. 

"Breakfast can be the single most important meal of the day for children, helping them to perform better at school," said Secretary Kuperus.  "Our Department of Agriculture nutrition programs can lay the groundwork for these students to live healthier lives as adults."

The U.S. Department of Agriculture administers the School Breakfast Program at the federal level, providing cash subsidies and donated commodities for each meal served.  The N.J. Department of Agriculture operates the program in the state.  The program, established in 1966, provides nutritionally balanced breakfasts in public and nonprofit private schools and residential childcare institutions.  Those breakfasts are required to provide one-third of the recommended dietary allowances for protein, vitamin A, vitamin C, iron, calcium and calories.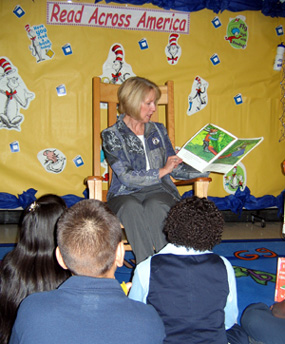 "Eating breakfast can have a profound impact in a child's academic function," said Dombroski. "Unfortunately, many students still come to school hungry, and many schools still do not participate in USDA's School Breakfast Program. National School Breakfast Week is an opportunity to highlight the importance of this program, and what it can do for every child's good health and development."

Pat Dombroski reads a book during School Breakfast Week Event in Perth Amboy.


Nationally, 9.8 million students in more than 84,000 schools and residential childcare institutions participated in the school breakfast program in 2006.  In New Jersey, there are 1,744 schools that participate with an average daily student participation in the program of 144,742.

Out of the 570 students, grades kindergarten through fourth, in the Ceres School, about 141 students participate in the breakfast program each day.  In addition to incorporating good nutrition into the curriculum, the school sponsors a variety of wellness/nutrition programs.  In January, a Family Health, Nutrition and Exercise program that included speakers and demonstrations about healthy eating and the health risks of obesity.

"We embrace the saying, 'Healthy bodies lead to healthy minds,'" said Dr. Myrna Garcia, principal of Ceres School.  "We not only each our students the importance of eating a healthy breakfast during National School Breakfast Week, but also during the course of the year."

All 10 schools in Perth Amboy participate in the National School Breakfast Program, with two schools getting 72  percent participation.

"We have been  providing the students of the Perth Amboy Public Schools with a nutritional breakfast program for more than 30 years," said John M. Rodecker, Superintendent of Perth Amboy Schools.  "District-wide we serve over 2,370 breakfasts to our students daily.  As the most important meal of the day, we believe it is vital to provide our students with the nourishment they need to be healthy and academically alert."

National School Breakfast Week was launched in 1989 to raise awareness of the availability of the School Breakfast Program to all children.   For more information on the School Nutrition Association's breakfast campaign, visit http://docs.schoolnutrition.org/meetingsandevents/nsbw2008/index.html.

For more information about the New Jersey Department of Agriculture's school Breakfast program, visit www.nj.gov/agriculture/divisions/fn/childadult/school_breakfast.html.