KUPERUS CELEBRATES NATIONAL AGRICULTURE DAY WITH VISIT TO TOP AG EDUCATION PROGRAM IN STATE
Points to Need to Strengthen These Programs, Encourage New Ag Ed Teachers
For Immediate Release: March 20, 2008
Contact: Lynne Richmond
(609) 633-2954

(TRENTON) – By the end of 2008, the agricultural education program at Allentown High School in Allentown, NJ, will be without two veteran teachers who have more than 60 years of combined experience in teaching agricultural subjects to high school students.

In addition, there is expected to be a shortfall of about 20,000 between the number of graduates from colleges of agriculture and life sciences, forestry and veterinary medicine and the number of job openings for new graduates in the food, agricultural and natural resources fields in the next few years.

"National Agriculture Day acknowledges the critical role agriculture plays in improving the quality of life in New Jersey and contributing positively to our economy," said New Jersey Secretary of Agriculture Charles M. Kuperus, who spent this morning at Allentown High School touring its agricultural education facilities and watching student demonstrations.  "To continue to thrive, there is a great need to equip the next generation of agriculture leaders through quality high school and post-secondary agricultural education programs delivered by top-notch ag education teachers.  We are working with Rutgers University on programs that will keep these students in our state so they can take jobs here."

Agriculture is a significant part of New Jersey's working landscape with 9,800 farms on about 800,000 acres.  The Agriculture Council of America established National Agriculture Day on the first day of spring each year to build awareness of agriculture's important contributions in our country and to encourage young people to consider career opportunities in agriculture. 

Allentown High School is facing the loss of its two fulltime agricultural education teachers – V. Jacque and Cynthia Roszel, who will be retiring later this year after a combined 68 years of teaching in ag education.  Through those years, they have instructed about 5,040 students and 288 FFA officers.

 "Ag education and the FFA provide students with  both the  occupational and life skills to become useful, successful members of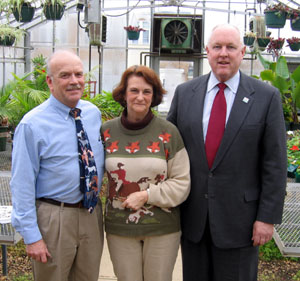 society," said Jacque Roszel.  "Countless former FFA members  around the state are in key leadership rolls within their local communities, the State, and the Nation because they gained the confidence and desire to succeed through  their involvement with Ag Education/FFA.  I am proud to say that I am an FFA Advisor and had a small part in shaping their path toward success." 



Jacque and Cyndee Roszel with Secretary Kuperus

Allentown High School's agricultural education program includes veterinary, equine, animal, plant and environmental science, nursery/landscape, greenhouse management/floral design, cooperative agricultural education, leadership and bioethics.  Facilities include a wireless laptop lab, two classrooms, three greenhouses, agriculture mechanics and welding shops, lathe house and other outdoor laboratories.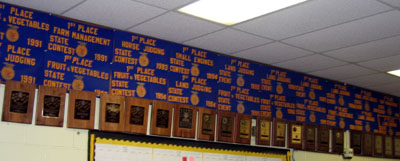 The school's FFA chapter has 140 members.  Allentown has been one of the top three FFA chapters in the state and among the top 2 percent in the nation for 25 years.  There are 37 chapters with 1,684 students in New Jersey.  FFA is a national youth organization that uses agricultural science education to develop students' potential and help them discover their talent.

"Jacque and Cyndee Roszel are motivated, committed teachers who have consistently delivered quality class/lab instruction, experiential learning through supervised ag experiences and leadership development through FFA," said Nancy Trivette, Agricultural Education Program leader in the New Jersey Department of Agriculture.  "They have achieved success by being committed to professional development, program planning and evaluation, forging school and community partnerships and marketing their program."

The National FFA Association has a long-range strategic goal to have 10,000 quality agricultural science education programs serving students through an integrated model of classroom/laboratory instruction, experiential learning and leadership and personal skill development by 2015.  Further, it seeks to have all agricultural science students become members of FFA and have supervised agricultural experience that supports classroom and laboratory instruction.

Another aspect to strengthen the agricultural education programs in New Jersey and ensure that the agriculture workforce needs of the future are met is through quality post-secondary agricultural education programs.  Overall in the state, there are eight post-secondary programs:
Union County College: Botany, Horticulture;
Ocean County College: Horticulture, Turf Management;
Mercer County Community College: Plant Science, Ornamental Horticulture;
Cumberland County College: Production Agriculture, Ornamental Horticulture, Floriculture, Landscape Technology;
Camden County College: Animal Science;
Brookdale Community College: Biology and Horticulture, Certificate in Ornamental Horticulture;
Bergen Community College: Horticulture, Certificate in Landscaping, Floral Design, Grounds Management;
County College of Morris: Landscape and Horticultural Technology.
Rutgers University in New Brunswick offers a wide array of agriculture courses.  Barry Jesse, Associate Dean of Academic Administration, Rutgers University School of Environmental and Biological Sciences, joined Secretary Kuperus for his tour of Allentown High School's agricultural education program. 

"Rutgers is pleased to offer a full complement of courses that prepare students for careers in agriculture or ag education," said Jesse.  "Our major degree, continuing professional education, and certificate programs reflect the diversity of agriculture in New Jersey. In addition to agricultural science and agricultural science education, students may pursue courses and training in plant breeding, landscape architecture, animal science, food industry economics, and pest control, among others."

"Rutgers and other college programs in New Jersey help provide a seamless path for high school students to find careers in the agriculture field," said Secretary Kuperus.  "To be able to meet the workforce demands of the industry and the need for new ag education teachers, we hope these programs grow and flourish in the future."