Home
>
News
>
Press Releases
>
2008
>
DEPARTMENT OF AGRICULTURE AND NEW YORK JETS HONOR HALSTED MIDDLE SCHOOL FOR ITS NUTRITION PROGRAM
DEPARTMENT OF AGRICULTURE AND NEW YORK JETS HONOR HALSTED MIDDLE SCHOOL FOR ITS NUTRITION PROGRAM
For Immediate Release: March 26, 2008
Contact: Lynne Richmond 
(609) 633-2954

(NEWTON) – Vegetable sticks and dip, baked chicken patties, whole wheat bread and salad are staples on the lunch menu at Halsted Middle School in Newton.  For this commitment to healthy eating, New York Jets offensive tackle D'Brickashaw Ferguson today visited the school as part of the Eat Right, Move More program with the New Jersey Department of Agriculture.

Ferguson is the spokesman for the Eat Right, Move More campaign, which urges Garden State students to eat the healthy foods in school that adhere to the Department's school nutrition policy, implemented in all school districts in the state last fall.  The most comprehensive policy in the nation covers pre-kindergarten through 12th grade students and limits fat and sugar content in foods offered in a la carte lines, snack bars and vending machines, school stores and as part of on-campus fund-raisers.

"I am really proud of Halsted Middle School for their commitment to the Eat Right, Move More program," said Ferguson, a 24-year-old who has played two seasons for the Jets.  "The kids and staff really understand the importance of eating healthier and exercising regularly and I am excited to continue to serve as a good role model for not only this school but for this excellent program."

Ferguson is featured on posters in schools around the state telling students, "When I have a healthy meal, it helps me play my best.  Your school cafeteria has a variety of nutritious foods to keep you going all day long.  So get up, eat right and move more!"

Halsted Middle School was one of six schools to be selected as winners in the Eat Right, Move More contest, which challenged schools in New Jersey to submit their menus that most creatively use the state's nutrition standards.  The school, which houses 280 students from sixth through eighth grade, also showcased its many initiatives to promote good nutrition and healthy lifestyle habits to win the Jets visit:
"Taste Buddies":  A food tasting and evaluation group, held once a year where students can sample and recommend new products to be offered in school meal programs.
Poster Contests:  Prizes awarded to students for submissions highlighting nutrition concepts.
Breakfast Bike Give Away:  A contest was held to encourage student participation in the school breakfast program.  Local vendors donated sports equipment, including a mountain bike.
Computerized Point of Sale System:  Parents can prepay for student meals online and view the child's food purchases.
Fitness Club:  The club meets daily during the last period of the day to help students reduce their body fat. 
Fitness Center:  Open to students before and after school on a daily basis.
Intramurals:  Held twice a week for students who wish to participate in sports-type games.
March Madness:  After school basketball games based on the NCAA Tournament.
"Good nutrition and regular exercise help kids grow up healthy," said Jeff Waldron, school physical education teacher.  "The Eat Right, Move More contest has helped us reinforce that point with our students.  Professional athletes can have a very powerful influence.  If D'Brickashaw Ferguson says to eat right and exercise, our kids are likely to believe it."

To be eligible to apply for the Eat Right, Move More program, schools must participate in the national school lunch program, a federally funded program to ensure all children have access to a wholesome meal during the school day, which is administered by the New Jersey Department of Agriculture.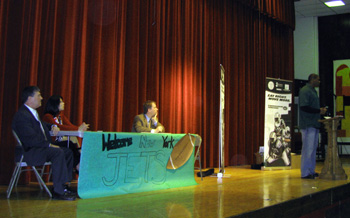 Assemblyman Gary Chiusano, Arleen Ramos-Szatmary and Jesse Linder of the NY Jets look on as D'Brickashaw Ferguson addresses students at Halsted

"Both school districts and the students themselves have embraced our nutrition policy, many of them going over and above what is required," said Arleen Ramos-Szatmary, Assistant Coordinator for School Nutrition Programs for the Department.  "We applaud Halsted Middle School's enthusiasm and their healthy menu and programs that promote good health."

For more information on the Department's nutrition policy, visit: www.nj.gov/agriculture/divisions/fn/childadult/school_model.html.

As a professional football team that plays in New Jersey, the Jets regularly promote youth health, fitness, and education, particularly in disadvantaged communities. Over the past several years, the Jets and their charitable foundation donated or raised more than $7 million to promote youth health, fitness, and education.

More than 60 schools applied for the Eat Right, Move More contest, now in its second year.  In addition to Halsted, winners included:  Port Reading School #9 in Woodbridge, which was visited by Ferguson in November; Rittenberg Middle School in Egg Harbor City, Northfield Elementary in Northfield and Cecil S. Collins Elementary in Barnegat Township, which will receive Jets visits in April and May; and Hunterdon Central Regional High School in Flemington, which sent representatives to a December Jets game at Giants Stadium to be honored on the field.