Home
>
News
>
Press Releases
>
2008
>
NORTHFIELD SCHOOL HONORED BY DEPARTMENT OF AGRICULTURE, NEW YORK JETS FOR WINNING NUTRITION PROGRAM
NORTHFIELD SCHOOL HONORED BY DEPARTMENT OF AGRICULTURE, NEW YORK JETS FOR WINNING NUTRITION PROGRAM
For Immediate Release: April 9, 2008
Contact: Lynne Richmond 
(609) 633-2954

(NORTHFIELD) – It is not unusual for students in Northfield Community School to celebrate birthdays with vegetable and dip trays instead of the traditional cupcakes and class parties with fruit instead of sugary snacks.  For this commitment to healthy eating, New Jersey Secretary of Agriculture Charles M. Kuperus and New York Jets wide receiver Chansi Stuckey today visited the school as part of the Eat Right, Move More program.

"Since our school nutrition policy was fully implemented last fall, children around the state are eating healthier foods in school and we applaud Northfield Community School for its nutritious menu and programs that promote good health," said Secretary Kuperus.  "What better role model than a New York Jets player – a professional athlete – who makes his living from keeping his body strong and healthy, to bring the message of the importance of good nutrition to students."

The Eat Right, Move More campaign with the New York Jets urges Garden State students to eat the healthy foods in school that adhere to the Department's school nutrition policy.  The most comprehensive policy in the nation covers pre-kindergarten through 12th grade students and limits fat and sugar content in foods offered in a la carte lines, snack bars and vending machines, school stores and as part of on-campus fund-raisers.

"Eat Right, Move More is such an important program," said Stuckey, a 24 year-old, 6-foot-tall graduate of Clemson University. "I am proud to be a part of honoring Northfield School's commitment to eating healthier and staying active."

Northfield Community School was one of six schools to be selected as winners in the Eat Right, Move More contest, which challenged schools in New Jersey to submit their menus that most creatively use the state's nutrition standards and demonstrate that it has exceptional wellness programs.  The school's April lunch menu includes salads, fruits, and low-fat milk.

"Northfield is a school that cares about the future health of its students and their families," said Dr. Richard Stepura, Superintendent of Schools.  "Too many of today's children are overweight and unhealthy, therefore drastic changes must be made in the lifestyles of American families before it is too late.  We have adopted both a Nutrition and Wellness policy that encourages all students, staff and parents to eat healthy and get fit."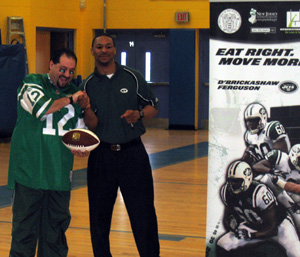 Students at Northfield take part in walking clubs that take place during and after school; "Healthy Equation," in which third grade teachers and students participate in wellness lessons promoting daily physical activity and healthy lifestyle choices; and, "Power of Choice," which is a series of food-related activities on Fridays to help preteens make smart decision for health.

Jets fan 4th grade teacher Bryan Levy meets Chansi
Stuckey during Eat Right, Move More Program

The school's programs also reach out into the community with Annual Family Health and Fitness Days; "Lean, Green Walking Machine," scheduled for April 24, which involves volunteer parents and caregivers taking part in walking/cycling with students; and "Annual Happy Home Walk," slated for April 26.

To be eligible to apply for the Eat Right, Move More program, schools must participate in the national school lunch program, a federally funded program to ensure all children have access to a wholesome meal during the school day, which is administered by the New Jersey Department of Agriculture.

The campaign features posters of Jets lineman D'Brickashaw Ferguson in every school telling students, "When I have a healthy meal, it helps me play my best.  Your school cafeteria has a variety of nutritious foods to keep you going all day long.  So get up, eat right and move more!"

For more information on the Department's nutrition policy, visit: www.nj.gov/agriculture/divisions/fn/childadult/school_model.html.

As a professional football team that plays in New Jersey, the Jets regularly promote youth health, fitness, and education, particularly in disadvantaged communities. Over the past several years, the Jets and their charitable foundation donated or raised more than $7 million to promote youth health, fitness, and education.

More than 60 schools applied for the Eat Right, Move More contest, now in its second year.  In addition to Northfield Community School, winners included:  Port Reading School #9 in Woodbridge and Halsted Middle School in Newton, which were visited by D'Brickashaw Ferguson in November and March, respectively; Cecil S. Collins School in Barnegat, which was visited by running back Stacy Tutt last Wednesday; Rittenberg Middle School in Egg Harbor City, which will receive a Jets visit in May; and Hunterdon Central Regional High School in Flemington, which sent representatives to a December Jets game at Giants Stadium to be honored on the field.