JERSEY FRESH COMMUNITY FARMERS MARKETS OPENING AROUND NJ
Agriculture Secretary Celebrates Locally Grown Produce at Market Openings in Essex, Union and Bergen Counties
For Immediate Release: June 17, 2008
Contact: Lynne Richmond
(609) 633-2954

(TRENTON) – New Jersey Secretary of Agriculture Charles M. Kuperus today officially heralded in the Jersey Fresh produce season at the opening day for community farmers markets in Millburn, Elizabeth and Hasbrouck Heights.

"Eagerly awaited Jersey Fresh fruits, vegetables and other products are now available directly from our state's hard-working farmers at farmers markets in communities throughout New Jersey," said Secretary Kuperus.  "These markets benefit consumers by providing freshly picked, healthy and safe produce to local residents who might not have access to these products otherwise."

Secretary Kuperus was joined on his market opening tour by Diana Linbacher, Director of Supplemental Food Programs, United States Department of Agriculture (USDA), Food and Nutrition Service Mid-Atlantic Region, representing Regional Administrator Yvette Jackson.

"The USDA, Farmers' Market Nutrition Programs create a win-win situation by providing eligible seniors and participants in the Women, Infants, and Children (WIC Program) greater access to fresh, nutritious fruits and vegetables while supporting the local farmers," said Jackson.  "We are very proud of New Jersey's success with these programs which benefit eligible consumers and the farming community, with the goal of improving the health and well-being of its citizens."

The Women, Infants, and Children (WIC) and Seniors Farmers Market Nutrition Program makes available locally grown fresh fruits, vegetables, and herbs to nutritionally at-risk pregnant, breast-feeding, or post-partum women; children two to five years old; and eligible seniors age 60 and older.  WIC participants receive six $5 checks and eligible seniors receive four $5 checks, valid through November 30, to purchase locally grown produce from certified farmer vendors. .

In 2007, there were 150,000 WIC checks and 129,000 senior checks redeemed through the Farmers Market Nutrition Program.  More than $1.5 million is available this year in New Jersey through the USDA for the program.  For more information on the Farmers Market Nutrition Program, visit www.nj.gov/agriculture/divisions/md/prog/wic.html.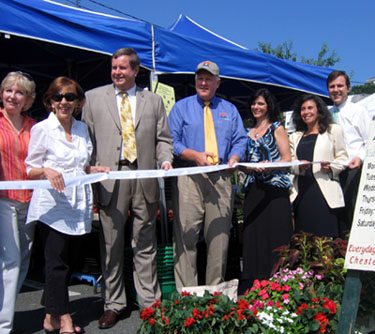 Kuperus and Linbacher took part in opening day ceremonies for the Millburn Farmers Market, which has four farmers, cooking and food demonstrations and other weekly activities.  The market, now in its 16th year, is held Tuesdays from 8 a.m. to 2 p.m. in a municipal parking lot.

"We wanted to bring the people back to the downtown to socialize and increase business and has been so successful you can't find a parking space around town on market day," said Steven Suskauer, past president of Downtown Millburn Development Alliance.  "Plus, the market helps keep farmers on their farms and keeps New Jersey green."

Secretary Kuperus attended the grand opening of the Elizabeth Farmers Market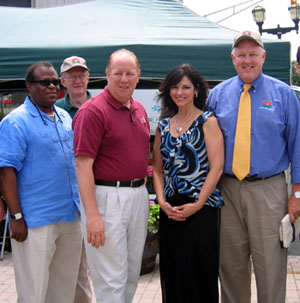 four years ago and since then it has become a gathering place for the community and accomplished the goal of bringing more people into the downtown area.  The market, in Union Square Plaza, has two farmers and vendors who sell spices, baked goods, cheese and pickles.  It is held on Tuesdays from 11 a.m. to 6 p.m.

Kuperus and Linbacher were joined at that stop by the Union County Division on Aging, which distributed Seniors Farmers Market Nutrition Program vouchers to elderly residents.

"We thought a farmers market would be a good way to encourage better nutrition among our residents and build community spirit," said David Strochak, market manager for the Elizabeth Avenue Partnership.  "Tuesdays used to be a quiet day, but, because of the market, it is now bustling with activity."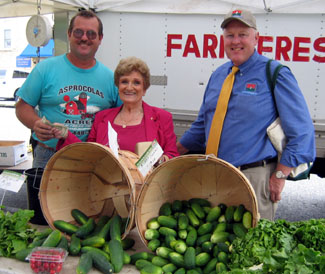 The final stop of Secretary Kuperus' was the Hasbrouck Heights Farmers Market, which is in it 8th season.  The market has one farmer and several vendors selling pickles, organic cookies and homemade breads.  It is located on the Boulevard, the main street through town, and is open on Tuesdays 12 to 6 p.m.

"Our goal in opening the market was to revitalize our downtown," said Ray Vorisek, President of the Hasbrouck Heights Chamber of Commerce.  "The market has been a great success and a positive thing for the Boulevard."

The number of community farmers markets in the state has been on the rise over the past few years. About 50 new markets have opened in the past six years, with nine opening for the first time this season in Margate, Camden, Jersey City, Princeton, Atlantic Highlands, Asbury Park, West End/Long Branch, Linden and Crystal Springs in Hardyston Township.  In total, there are more than 100 community farmers markets attended by approximately 100 farmers operating in more than 90 municipalities in New Jersey. 

Nationwide, USDA reports more than 4,500 farmers market operated throughout the nation in 2007 – a record number, up from 2,800 in the year 2000.  Sales generated by farmers markets have been estimated to exceed $1 billion a year, with most of the money going directly to small family farmers.

For complete information on locations, days and hours of community farmers markets throughout New Jersey, visit www.state.nj.us/jerseyfresh/searches/urban.htm.