AGRICULTURE SECRETARY TOURS PRODUCE AUCTION, POINTS TO AVAILABILITY OF JERSEY FRESH PRODUCE
For Immediate Release: August 27, 2008
Contact: Lynne Richmond 
(609) 633-2954

(TRENTON) – On Mondays, Wednesdays and Friday evenings during the growing season in New Jersey, a group of about 30 farmers put what they grow into their trucks or vans and drive to the Tri-County Cooperative Auction Market on Route 33 in Hightstown.  This process has not changed much in the more than 75 years the produce auction has operated.

The farmers draw numbers and line up their vehicles.  Then, when their turn comes, their produce is shown to buyers who bid on a price for the products.

New Jersey Secretary of Agriculture Charles M. Kuperus visited the auction on Wednesday, August 13 and saw a mix of old and young selling and buying.  Most of all, he saw an opportunity for the local community to benefit from Jersey Fresh products.

"Most of the produce at the Tri-County auction travels less than 20 miles to get there and that produce was likely picked that day or the previous day," said Secretary Kuperus.  "Local retail stores, restaurants, and food pantries have access to these Jersey Fresh items at the auction and can guarantee to their customers the freshest, high quality taste experience if they take advantage of this opportunity."

Invited to join Secretary Kuperus that night were local supermarket chain produce buyers and food bank representatives.  Matt Ray of Whole Foods, a supermarket chain that sells natural and organic foods, came to watch the auction to see what it had to offer.

"Whole Foods has Jersey Fresh in almost all stores in our Mid-Atlantic and Northeast regions and it is very successful, even in stores as far as Washington D.C. and Kentucky," said Ray.  "Customers love local.  They like to come to the store and associate a farm or farmer with the product – that's irreplaceable."

Ray commented on the beauty of sunflowers being sold by one farmer and said he wanted his floral buyer to come to the auction, as well.

Representatives from Community FoodBank of New Jersey in Hillside and Mercer Street Friends Food Bank in Ewing also attended the auction that night.  Emma Davis-Kovacs, Director of the Department of Agriculture's Division of Food and Nutrition, said emergency feeding operations in the state receive funds from Governor Jon Corzine's hunger initiative specifically to purchase nutritious foods with an emphasis on buying Jersey Fresh items when in season.

"We wanted to introduce the food banks to another source to meet the Governor's directive to buy nutritious, fresh produce grown close to home," said Davis-Kovacs.  "Community FoodBank and Mercer Street Friends have been to the Tri-County Auction before and felt it helped them understand the pricing of produce better."

"The ability of our Food Bank to provide Jersey Fresh produce to our member agencies has been a win-win for everyone," said Phyllis Stoolmacher, Director of Mercer Street Friends Food Bank.  "The food pantries and meal programs are so grateful to be able to give out produce and the folks who get the help cannot believe they are getting such healthy--and appetizing--food.  I cannot stress enough how beneficial the Governor's hunger funding is, enabling us to buy Jersey Fresh fruits and vegetables for our most vulnerable citizens."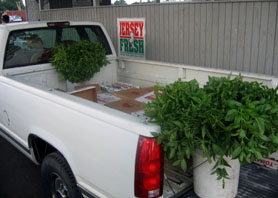 The Tri-County auction was chartered in 1931, when Central Jersey's key crop was potatoes and poultry was a large sector of agriculture.  Auction board member Jim Giamerese, an East Brunswick farmer, said while there have been many changes since then, the core benefit it still the same – the freshness.

"Many of the people who buy and sell produce here have booths at tailgate markets in the area," said Giamerese.  "If you come here, it's fresh.  And not only can you find the traditional produce – melons, peaches, peppers, corn – but there are heirloom and unique items."

He said the goal now is to get the word out there to supermarkets, restaurants, food banks and even florists that the Tri-County Auction can provide them with the freshest, local produce and flowers. 

Market organizers plan some capital improvements to the aging buildings at the auction and hope to install solar panels for power. 

"While the Tri-County Auction operates on the traditions of the past, it is still relevant in today's world, having the capability of supplying the area with Jersey Fresh produce and cut flowers, as fresh as fresh gets," said Secretary Kuperus.  "We hope the auction will continue to serve as a source of produce grown close to home, guaranteeing the freshest product and reducing food miles and the carbon footprint."

The Tri-County Cooperative Auction Market is located at 619 Route 33 West in Hightstown and operates Mondays, Wednesdays and Fridays through Halloween beginning at 7 p.m.  At 5 p.m. the auction offers sales to the general public.