Home
>
News
>
Press Releases
>
2008
>
STATE AND FEDERAL OFFICALS ANNOUNCE KICK-OFF OF FRESH FRUIT AND VEGETABLE PROGRAM IN SCHOOLS
STATE AND FEDERAL OFFICALS ANNOUNCE KICK-OFF OF FRESH FRUIT AND VEGETABLE PROGRAM IN SCHOOLS
Celebrate National School Lunch Week
For Immediate Release: October 15, 2008
Contact: Lynne Richmond 
(609) 633-2954

(TRENTON) – Students in 33 schools in 17 counties in New Jersey this school year are sampling fresh fruits and vegetables – some they might not have ever eaten before -- under the United States Department of Agriculture (USDA) Fresh Fruit and Vegetable program, which made its debut in 25 of the schools last month and 8 schools this month. 

To see the program in action, New Jersey Secretary of Agriculture Charles M. Kuperus, U.S. Senator Robert Menendez, and Barbara Martin, Section Chief for Schools, Summer, and Nutrition Education in the Mid-Atlantic Regional Office of the USDA Food and Nutrition Service, today visited William B. Cruise Memorial School #11 in Passaic, where students in first through fifth grade were treated to Jersey Fresh Macintosh apples.

"Without the hard work of our U.S.Senators and the rest of New Jersey's congressional delegation to include important nutritional programs in the 2008 Farm Bill, these students wouldn't have the opportunity to try these Macintosh apples, grown by New Jersey farmers," said Secretary Kuperus.  "We want children to know the nutritious food options that are available.  By exposing them to these foods early, we hope they will continue making healthy food choices throughout their lives."

The federal Farm Bill, which became law in June of 2008, expanded the fruit and vegetable program to all 50 states.  The program was initiated as a pilot in 2002 in four states and one Indian Tribal Organization.  Legislation in 2004 made the program permanent. 

"One of my proudest accomplishments last year was seeing parts my Healthy Farms, Food, and Fuels Act included in the Farm Bill," said Senator Menendez.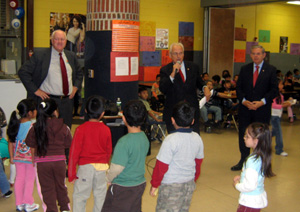 "Children in New Jersey and nationwide will now have access to local, fresh fruits and vegetables through their school cafeterias. By turning the Fresh Fruit and Vegetable program from a small pilot into a national program, we are striking at the root of childhood obesity and associated adult diseases like diabetes and heart disease."

Secretary Kuperus, Congressman Bill Pascrell and Senator Menendez in cafeteria at school #11

USDA allocated a total of $1,100,044 to New Jersey for the program, whose goal is to expose children to new, healthier foods and increase their fruit and vegetable consumption, ultimately leading to lifelong dietary habits.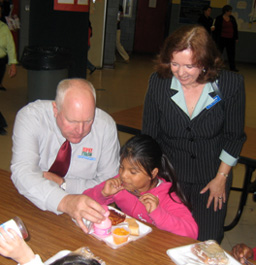 "New Jersey has been working very hard for quite some time to make sure that schoolchildren have healthy lunch choices," said Martin.  "National School Lunch Week is a great time to highlight how school lunches can help kids eat healthy meals and have the energy they need to learn."

Secretary Kuperus and Barbara Martin inspect a student's school lunch


The 1,300 students at William B. Cruise Memorial School #11 will try a different fruit or vegetable every week of the school year, getting their sample each day after their physical education classes.  Principal Kyra Aycart said health and nutrition are basic themes throughout the school year and the fruit and vegetable program is now being integrated into the curriculum, including tying the experience to math through surveys about the weekly food selections, announcing adjectives describing the selections and learning new vocabulary words.

"Children become what they learn about," said Aycart.  "The more we teach them about living healthy lives and keeping the world healthy, the better their lives will be. We all benefit."

Cruise School participates in the National School Lunch and Breakfast Programs.  The Fresh Fruit and Vegetable Program enhances those programs, which provide nutritious, balanced meals to school students.  National School Lunch Week is being celebrated throughout the country October 13-17.

A total of 98 New Jersey schools, within 68 districts applied for the fruit and vegetable program.  Some of the criteria used in making the selections included: a majority of schools needed to have 50 percent or more of the students eligible for free or reduced price meals; schools planned to purchase locally grown fruits and vegetables; the program would be well-publicized and all students would have access to the produce offered; and schools planned to partner with outside organizations to enhance nutrition education.

The first 25 schools were announced in July.  Additional money from the Farm Bill was allocated to the program in New Jersey and eight more schools were included, all of which were required to have 50 percent or more of the students eligible for free or reduced price meals.  The 33 participating schools are:

Atlantic County
Alder Avenue Middle School, Egg Harbor Township
Mullica Township School
Oceanside Charter School, Atlantic City
Dawes Avenue School, Somers Point
Sovereign Ave., Atlantic City

Bergen County
Brownstone School, Saddle Brook

Burlington County
Chesterfield Elementary School
Springfield Township Elementary School

Cape May County
Woodbine Elementary School

Cumberland County
Haleyville Elementary School, Commercial Township

Essex County
Our Lady of Help Christians School, East Orange
Jackson Academy, East Orange
Lincoln Avenue School, Orange
Tuscan Elementary School, Maplewood
Team Academy Charter School, Newark

Gloucester County
Evergreen Avenue School, Woodbury

Hudson County
Elysian Charter School, Hoboken
WNY School #5, West New York

Mercer County
Grant Elementary, Trenton

Monmouth County
Port Monmouth Road School, Keansburg

Morris County
Daytop Preparatory School, Mendham

Ocean County
Oak Street School, Lakewood
South Toms River Elementary School

Passaic County
Haledon Public School, Haledon
Prospect Park Elementary School
St. Mary, Paterson
William B. Cruise Memorial School #11, Passaic

Salem County
P.W. Carleton School, Penns Grove
Quinton Township Elementary School

Sussex County
Merriam Avenue School, Newton

Union County
George Washington, Hillside
Livingston Elementary School, Union Township

Warren County
Phillipsburg Early Childhood Learning Center