NEW JERSEY SECRETARY OF AGRICULTURE TO STEP DOWN IN DECEMBER
For Immediate Release: October 24, 2008
Contact: Lynne Richmond
(609) 633-2954

(TRENTON) - New Jersey Secretary of Agriculture Charles M. Kuperus today submitted his resignation to Governor Jon S. Corzine, effective December 31, 2008.

Secretary Kuperus plans to return to his family's farm in Sussex Borough, Sussex County. 

Upon becoming Secretary of Agriculture in 2002, Kuperus restructured the Department to make it more efficient and to better reflect the issues impacting agriculture in New Jerseyand throughout the nation.  He was instrumental in creating the Division of Food and Nutrition, underscoring the importance of instilling healthy eating habits in school students, feeding the hungry and making fresh farm products more accessible to residents in areas traditionally underserved by supermarkets.

"When I became Secretary of Agriculture seven years ago, my goal was to accelerate the preservation of farmland, strengthen the industry to allow agriculture to thrive, and encourage the next generation and welcome new people into agriculture in our state," said Kuperus.  "I am proud of the many accomplishments of the New Jersey Department of Agriculture toward those goals during my tenure. 

"Although I am stepping down as Secretary of Agriculture, I will continue to take every opportunity to champion our hard-working farm families, Jersey Fresh and all our other top-notch farm products, and all that agriculture has to offer our great Garden State," said Kuperus.

While agriculture is a part of New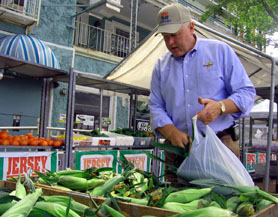 Jersey's heritage, Secretary Kuperus has worked to make it a dynamic part of the state's future by linking agriculture with citizens, whether through preserving the agricultural working landscape, promoting new markets or integrating agriculture into hunger relief programs, school lunch, restaurants, supermarkets or farmers markets.



Kuperus oversees the programs that affect the state's 9,800 farms and a food and agriculture industry that contributes billions of dollars annually to the state's economy.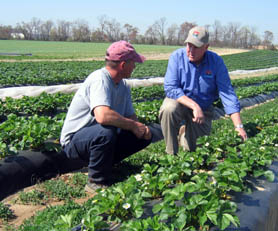 For a more comprehensive look at the Department's major initiatives since Kuperus took the post, visit www.nj.gov/agriculture/pdf/NJDAinitiatives.pdf.

The State Board of Agriculture, an eight-member body created by statute which serves as the policy-making entity for the Department of Agriculture, is responsible for appointing the Secretary of Agriculture, with the approval of the Governor. A replacement for Kuperus will be named in the coming months.