GOVERNOR CORZINE JOINS STUDENT VOLUNTEERS AT LOCAL FOOD PANTRY
Focus is to increase awareness of growing need to feed the hungry during holiday season
FOR IMMEDIATE RELEASE
DATE: November 14, 2008
CONTACT: Robert Corrales
609-777-2600
NJDA: Lynne Richmond
609-633-2954

(PLAINFIELD) – With many New Jersey food pantries reporting up to 40 percent increases in those seeking emergency food assistance this year, Governor Jon S. Corzine today joined student volunteers at the Salvation Army of Plainfield to pack Thanksgiving food baskets and heighten awareness of the critical role local food pantries serve during the holiday season.

"During this current national economic crisis, families throughout New Jersey find themselves in the difficult position of choosing among the basic necessities of life: food, heat, and shelter," Governor Corzine said. "Food distribution operations fill a critical niche in times such as these, and helping those in need remains a top priority in New Jersey. We will continue to monitor the situation to ensure that the state's emergency feeding operations have what they need to continue their mission."

Governor Corzine joined state Agriculture Secretary Charles M. Kuperus in Plainfield for the kickoff of the secretary's annual food pantry tour.

Local food pantries around the state are recipients of food purchased by the six regional emergency feeding operations (EFO) with State Food Purchase Program funds. Governor Corzine last month expedited distribution of those funds to ease shortages reported by pantries. On October 9, almost $1 million dollars were sent to the EFO's. The next quarterly fund distributions are slated for February and May 2009.

"There are many people in our state who are finding themselves for the first time unable to feed themselves and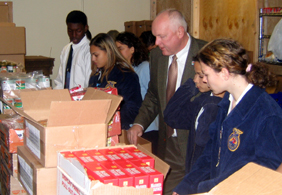 their families, perhaps through the loss of a job, changing circumstances or simply the rising costs for food and energy," said Secretary Kuperus.  "There are many ways that communities and corporations can help, through food drives and cash donations to local pantries, soup kitchens or our regional foodbanks."


Secretary Kuperus and Union County Vo-Tech FFA Members pack Thanksgiving Dinners at the Salvation Army in Plainfield

At the Salvation Army of Plainfield, Governor Corzine and Secretary Kuperus worked with 12 Union County Vocational-Technical School FFA members packing boxes with the makings for Thanksgiving dinners. For 27 years, the Salvation Army of Plainfield has operated a daily soup kitchen that serves between 110 and 150 people daily and a food pantry that also serves the community. Officials there say they've had a 30 percent increase since last year in the number of people who signed up to receive Thanksgiving baskets.

Union County Vocational-Technical School in Scotch Plains has a two year Horticulture Program for 11th and 12th graders.  All 25 students enrolled in the program are members of FFA, a national youth organization that uses agricultural science education to develop students' potential and help them discover their talent. There are 37 chapters with 1,684 students in New Jersey. 

"Part of the FFA motto is 'Living to Serve,' so community service has always been a part of what the FFA does," said Bonnie Baldasare, Union County Vo-Tech FFA advisor, who was twice named New Jersey FFA Advisor of the Year in her 25 years at UCVTS. "When my students heard that the Salvation Army of Plainfield needed volunteers to pack Thanksgiving boxes, they willingly volunteered.  They also brought boxes of donated food, which we collected school wide."

Secretary Kuperus continued his tour by packing holiday food baskets at the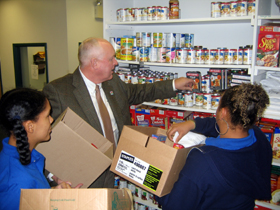 Catholic Charities Emergency and Community Services Food Pantry with students from Ridgeway Middle School in Edgewater Park.  Volunteers all this week will be preparing the baskets for distribution to 350 families next week.

"We have had a 40 percent increase in those seeking food assistance this year so far," said Bonnie Jordan, pantry program director.  "Most of the people coming in are families with children and most are working and just not making it."

The Catholic Charities pantry has been operating for 27 years and serves 9,000 households and 26,000 individuals each year. 

For information on the State Food Purchase Program or how to make donations to or volunteer at local food pantries, please visit www.nj.gov/agriculture/divisions/fn/fooddistrib/foodpurchaseprogram.html.