AGRICULTURE SECRETARY MARKS BEGINNING OF CHOOSE AND CUT CHRISTMAS TREE SEASON IN NJ
Urges Consumers to Visit NJ Christmas Tree Farms this Holiday Season
For Immediate Release: November 24, 2008
Contact: Lynne Richmond
(609) 633-2954

(BELVIDERE) – For John Wyckoff, growing Christmas trees is all about tradition. Farming has been a tradition for his family -- they've been doing it since 1839. Many families have made it a yearly tradition to visit Wyckoff's Tree Farm in Belvidere to cut their own Christmas tree.  And, Wyckoff has a tradition of growing champion Christmas trees.  This year marked the sixth time a Wyckoff tree was named Grand Champion in the New Jersey Christmas Tree Growers annual tree contest, held at the Hunterdon County 4-H and Agricultural Fair in August.

And, New Jersey Secretary of Agriculture Charles M. Kuperus today continued his tradition of cutting down a Christmas tree to herald the start of the choose and cut Christmas tree season in the state with a visit to Wyckoff's Tree Farm.

"A visit to one of New Jersey's choose and cut tree farms is a great way to start the holiday season and create lasting memories for your family," said Secretary Kuperus.  "That visit also supports our state's hardworking family farmers and helps to keep a viable and thriving agriculture industry, which contributes positively to our quality of life in the Garden State."

Secretary Kuperus was joined at Wyckoff's by Assemblywoman Marcia Karrow and Assemblyman Michael Doherty.

"A long-time supporter of farmland preservation and this state's rich agricultural history,
I urge all New Jerseyans to visit their local farms not only this holiday season but all year round," said Assemblywoman Karrow.  "Indeed, from cutting your own Christmas trees to hay rides and apple and pumpkin picking to strawberry picking and tasty, fresh corn on the cob, farming and agritourism is a year-round enterprise; one from which we can all reap the benefits." 

Assemblyman Doherty, Secretary Kuperus and Assemblywoman Karrow with the Wyckoff Family

"Jersey Fresh means Christmas trees, too," said Assemblyman Doherty.  "This is a holiday tradition that creates jobs for New Jersey farmers and New Jersey businesses."

The Douglas Fir tree cut by Secretary Kuperus is being donated by Wyckoff to Trees for Troops, a charity program to donate real Christmas trees to service members and their families, sponsored by FedEx and Christmas SPIRIT Foundation.  Last year the program delivered 16,846 trees to 37 Army, Navy, Air Force and Marine bases around the globe and National Guard families in four states.  More than 750 farmers in the U.S. donated trees to the program.

Trees from the Wyckoff Tree Farm were named Grand Champion in 1978, 1990, 1992, 1999 and 2007.  This year's grand champion tree was a Blue Spruce.  Wyckoff said it took time and patience to grow the tree, which had a pyramid shape, a blueish tint and a straight trunk.

"Many people plant Christmas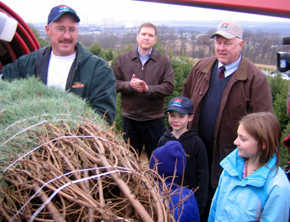 trees thinking they are easy to grow, but they give up because it turns out to be more extensive than they planned on," said John Wyckoff, a sixth generation farmer.  "We planted this year's winning Blue Spruce in 1999 when it was four years old and a foot tall and then it was in the field for 9 more years."

John Wyckoff bales the tree as Assemblyman Doherty, Secretary Kuperus and his children Johnny and Olivia look on

This is the 41st year the Wyckoffs are selling Christmas trees.  John Wyckoff's sons, John and Bill, as well as their families, help on the farm.  Son John lives on the property and his children are the 8th generation raised on the farm.  They have 2,000 trees available, including Douglas fir, Fraser fir, concolor fir and Norway spruce.

Christmas tree growers in New Jersey may participate in the Jersey Grown program, which allows farmers to tag their trees with the Jersey Grown brand to easily identify that their Christmas trees are grown in New Jersey. Jersey Grown includes quality standards and is similar to the well-known Jersey Fresh branding program for produce and other agricultural products.

Growers also are encouraged to add their farms to the newly created agritourism web site, www.visitnjfarms.org.  There, they can list information about their farm, including items for sale, hours of operation, directions, and special events.

The 2002 U.S. Census of Agriculture ranked New Jersey seventh in the nation in the number of Christmas tree growers.  Of New Jersey's 9,924 farms, 1,167 were cut Christmas tree farms, covering 7,628 acres. Those New Jersey farmers provide more than 132,000 families with Christmas trees annually.

The New Jersey Christmas Tree Growers' Association is a statewide organization of growers, professionals and industry leaders dedicated to the promotion and marketing of Christmas trees and related products.  It was organized in 1950 and has 200 members throughout New Jersey.

To locate a choose-and-cut farm near you, visit the Jersey Fresh website at www.jerseyfresh.nj.gov or the New Jersey Christmas Tree Growers' Association's website at www.njchristmastrees.org.  For more information about Christmas trees, log on to the National Christmas Tree Association's website at www.realchristmastrees.org.

Here are some tips when selecting and caring for a real Christmas tree:
Dress accordingly when shopping for a tree.  Wear comfortable, low-heeled shoes or boots for walking.
Select a tree that best fits your needs. Consider your ceiling height as well as the weight of your ornaments when determining the size and type of tree you choose. Remember that in the field, the sky is the ceiling, making trees appear smaller than they actually are.
Do a freshness test. Gently grasp a branch between your thumb and forefinger and pull it toward you. Very few needles should come off. Shake or bounce the tree on its stump. An excessive amount of green needles shouldn't fall to the ground. Some loss of interior brown, yellow or tan needles is normal.
If you're not going to decorate your tree right away, place it in a container of water and store the tree in a cool, shaded area, sheltered from the wind, such as in a garage.
Before you bring your tree into the house, cut an inch from the stump. The fresh cut enables the tree to more readily take in water.
Place the tree in a tree stand filled with one quart of water for every inch in diameter of the tree trunk. The average six-foot tree has a trunk with a four-inch diameter, meaning the tree stand should hold one gallon of water.
Always keep the tree stand filled with water.  Fresh-cut trees absorb a pint to a quart of water each day. Check the water level daily and always keep it above the cut end of the tree.
Keep your tree away from heat and draft sources like fireplaces, radiators and television sets. Be sure your light cords and connections are in good working order. Unplug lights before you go to bed or leave the house.
Real Christmas trees are biodegradable, which means they can be easily reused or recycled for mulch and other purposes. Contact your county recycling office for information on their tree recycling program.