PASSAIC COUNTY SCHOOL HONORED FOR NUTRITION PROGRAM DURING NEW YORK JETS GAME
For Immediate Release: December 16, 2008
Contact: Lynne Richmond
(609) 633-2954

(EAST RUTHERFORD) – Six Passaic County Technical Institute students and two teachers were honored Sunday by the New York Jets and the New Jersey Department of Agriculture during the Jets/Buffalo Bills football game at the Meadowlands.

Passaic County Technical Institute in Wayne won the Eat Right, Move More contest, which challenged New Jersey schools to submit their breakfast menus to determine the five schools with the most creative meal selections and that have made the most significant changes to improve their school nutrition environment.

"Passaic County Technical Institute is a leader in our school breakfast program, not only for its interesting and healthy menu items, but for involving students in creating the menus and encouraging them to participate in the program," said New Jersey Secretary of Agriculture Charles M. Kuperus. "We join with the New York Jets,' whose commitment to teaching young people the benefit of eating right and increasing their activity levels is unparalleled, in congratulating PCTI for their achievements in this area."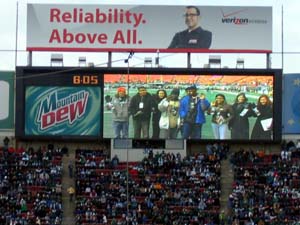 Attending the game were students Miguel Barrera of Clifton; Christopher Cleaves of Paterson; Dominick Henderson of West Paterson; Sahara Perkins of Paterson; Michelle Salazar of Clifton; and Michael Bennett of Paterson, as well as Culinary Arts teacher Thomas Bove and Physical Education teacher Linette Cummings. Representing the Department of Agriculture was Arleen Ramos-Szatmary, Assistant Coordinator of School Nutrition Programs.

"Going to the game was a great opportunity for the kids to see up close the importance of exercise and good nutrition," said Bove. "I've seen over the years that more students are embracing the new healthier offerings in our school's cafeteria. We've replaced cake with fresh fruit and no one misses it."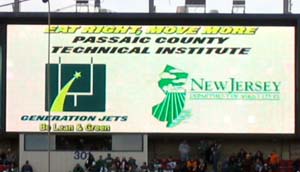 The group was treated to a VIP reception at the stadium and then brought down onto the field to watch pre-game warm-ups. The group was videotaped while on the field and that tape honoring the school for its nutrition program achievements was played during the third quarter of the game on the stadium jumbo-tron. The teenagers were selected to attend the game through a lottery.

"I was scared at first going out onto the field because it was so big, but I enjoyed standing on the sideline watching the team practice," said 16 year old Michelle Salazar, a culinary arts student. "I feel I eat healthier at school, which helps keep my mind more focused."

Passaic County Technical Institute was chosen as the Grand Prize winner in the Eat Right, Move More contest and received a visit from the program's spokesman, Jets offensive tackle D'Brickashaw Ferguson, and Secretary Kuperus on December 3. The four other schools -- Samsel Upper Elementary School in Sayreville; Somerset School in North Plainfield; Bartle Elementary School in Highland Park; and Berkeley Township Elementary School -- will receive a visit from a Jets player in early 2009 in recognition of their commitment to good nutrition.

Passaic County Technical Institute serves breakfast to about 400 of its 3,100 students daily. School lunch is prepared daily by culinary program students at the full-time high school for academics, careers and technology. The menus include fresh fruit, low fat milk and other low-fat items, 100 percent fruit juices, and whole grains.

The Eat Right, Move More campaign, urges Garden State students to eat the healthy foods in school that adhere to the state's new school nutrition policy, which was fully implemented in the 2007-2008 school year. The most comprehensive nutrition policy in the nation covers pre-kindergarten through 12th grade students and limits fat and sugar content in foods offered in a la carte lines, snack bars and vending machines, school stores and as part of on-campus fundraisers.

The campaign features posters of the Jets' D'Brickashaw Ferguson in every school telling students, "When I have a healthy meal, it helps me play my best.  Your schol cafeteria has a variety of nutritious foods to keep you going all day long. So get up, eat right and move more!"

Programs funded by the New York Jets Foundation touch the lives of countless young men and women in the tri-state area.  Over the past eight years, the Jets and their charitable foundation have donated or contributed more than $8 million to promote youth health, fitness and education, particularly in disadvantaged communities.  From fighting childhood obesity through the Generation Jets: Be Lean & Green Initiative to launching a football team in a Harlem high school, urging students to eat right and move more, and supporting the efforts of the Alliance for Lupus Research, the New York Jets invest in programs that make a difference in the lives of others.  In addition to the Jets Foundation, which supports their own extensive youth initiatives, the Jets partner with numerous established charitable organizations and participate in causes sponsored by the NFL.

For more information on the state's school nutrition policy or for information on the School Breakfast Program, visit:  www.nj.gov/agriculture/divisions/fn/childadult/school_model.html or www.njdafoodforthought.com.