Home
>
News
>
Press Releases
>
2008
>
DEPARTMENT OF AGRICULTURE AND NEW YORK JETS HONOR BARNEGAT TOWNSHIP SCHOOL FOR ITS NUTRITION PROGRAM
DEPARTMENT OF AGRICULTURE AND NEW YORK JETS HONOR BARNEGAT TOWNSHIP SCHOOL FOR ITS NUTRITION PROGRAM
For Immediate Release: April 2, 2008
Contact: Lynne Richmond 
(609) 633-2954

(BARNEGAT) – Assorted salads, baked – not fried – chicken and French fries, and vegetable sticks with dip are staples on the lunch menu at Cecil S. Collins Elementary School in Barnegat Township.  For this commitment to healthy eating, New York Jets fullback Stacy Tutt today visited the school as part of the Eat Right, Move More program with the New Jersey Department of Agriculture.

"As a professional athlete I understand how important it is to maintain a healthy diet and exercise regularly," said Tutt, who is 25-years-old, six-foot-one and has played two seasons for the Jets. "It is great to see the commitment that the Cecil Collins School has to these same important goals and to see them honored through the Eat Right, Move More program."

The Eat Right, Move More campaign urges Garden State students to eat the healthy foods in school that adhere to the Department's school nutrition policy, implemented in all school districts in the state last fall.  The most comprehensive policy in the nation covers pre-kindergarten through 12th grade students and limits fat and sugar content in foods offered in a la carte lines, snack bars and vending machines, school stores and as part of on-campus fund-raisers.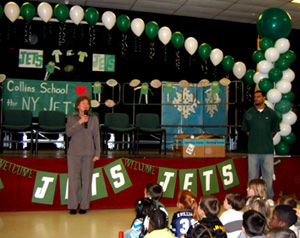 "We have seen a dramatic change in what is being served to students throughout the state since the school nutrition policy was first announced several years ago," said Janet Renk, Coordinator for School Nutrition Programs for the Department's Division of Food and Nutrition.  "New Jersey school children are eating much healthier now than ever before and we applaud Cecil S. Collins School for its nutritious menu and programs that promote good health."

The Collins School was one of six schools to be selected as winners in the Eat Right, Move More contest, which challenged schools in New Jersey to submit their menus that most creatively use the state's nutrition standards and demonstrate that it has exceptional wellness programs.  The campaign also features posters of player D'Brickashaw Ferguson in every school telling students, "When I have a healthy meal, it helps me play my best.  Your school cafeteria has a variety of nutritious foods to keep you going all day long.  So get up, eat right and move more!"

Collins School, which houses 800 students from kindergarten to fifth grade, has placed great importance on teaching children about living healthy lifestyles.

"We believe we have some of the healthiest and strongest students at our school thanks to our physical education program, after-school activities, recreational sports and the diverse selection of healthy meals and snacks our cafeteria provides," said George Chidiac, Vice-Principal.  "We want our students to continue to make the right choices regarding food and activities so they can grow up to be active, healthy and happy members of society."

To be eligible to apply for the Eat Right, Move More program, schools must participate in the national school lunch program, a federally funded program to ensure all children have access to a wholesome meal during the school day, which is administered by the New Jersey Department of Agriculture.

For more information on the Department's nutrition policy, visit: www.nj.gov/agriculture/divisions/fn/childadult/school_model.html.

As a professional football team that plays in New Jersey, the Jets regularly promote youth health, fitness, and education, particularly in disadvantaged communities. Over the past several years, the Jets and their charitable foundation donated or raised more than $7 million to promote youth health, fitness, and education.

More than 60 schools applied for the Eat Right, Move More contest, now in its second year.  In addition to Cecil S. Collins, winners included:  Port Reading School #9 in Woodbridge and Halsted Middle School in Newton, which were visited by D'Brickashaw Ferguson in November and March, respectively; Rittenberg Middle School in Egg Harbor City and Northfield Elementary in Northfield, which will receive Jets visits in April and May; and Hunterdon Central Regional High School in Flemington, which sent representatives to a December Jets game at Giants Stadium to be honored on the field.