Home
>
News
>
Press Releases
>
2009
>
GOVERNOR CORZINE, FEDERAL AND STATE AGRICULTURE OFFICIALS LAUD FOOD BANK-FARMER PARTNERSHIPS
GOVERNOR CORZINE, FEDERAL AND STATE AGRICULTURE OFFICIALS LAUD FOOD BANK-FARMER PARTNERSHIPS
Bounty of Jersey Fresh Produce to be Distributed at Local Pantries, Soup Kitchens
FOR IMMEDIATE RELEASE
DATE:  June 16, 2009
CONTACT:  Robert Corrales
PHONE: 609-777-2600

PENNSAUKEN – In a visit to the Food Bank of South Jersey, Governor Jon S. Corzine today encouraged continued partnerships between the state's food banks and local farmers to bolster the local economy and New Jersey's agricultural community. He was joined by New Jersey Secretary of Agriculture Douglas H. Fisher and United States Department of Agriculture Food and Nutrition Service Mid Atlantic Regional Administrator Yvette Jackson.

The state's six food banks receive the Governor's Hunger Initiative funding, which requires that those organizations place a priority on purchasing locally produced foods.

"Since the beginning of our Hunger Initiative in 2006, we have seen more food that is supplied and grown right here in the Garden State being distributed to those who need it the most," said Governor Corzine.  "Our partners have remained committed to maintaining a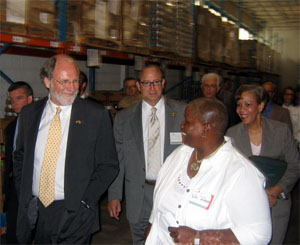 dependable, consistent supply of nutritious food for our families in need.  I want to encourage our network of food banks, soup kitchens, and food pantries to continue to strengthen their partnerships locally to purchase Jersey Fresh products, as it supports our local economies, our businesses, and our agricultural community."



Governor Corzine, Secretary Fisher and Yvette Jackson tour the Food Bank of South Jersey with Director Val Traore

Administered through the Department of Agriculture's State Food Purchase Program (SFPP), the Governor's Hunger Initiative distributed almost $7 million to the six food banks for food purchases in the fiscal year ending June 30.  Three million dollars of that total came from Governor Corzine's Economic Recovery and Assistance Plan announced this past October. At the time, food pantries throughout New Jersey were strained to the limits. With the help of the Legislature, additional funding was approved to help ease the food shortages. Governor Corzine has included approximately $4 million for the Hunger Initiative in the next budget.

"Thanks to Governor Corzine and President Barack Obama's efforts to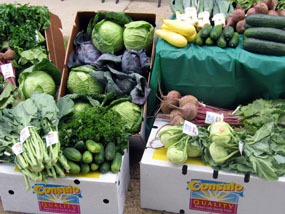 include hunger funding in their economic stimulus plans, we expect to meet the needs of the hungry in our state in the coming year," said Secretary Fisher.  "While our most at-risk citizens benefit from receiving fresh, Jersey produce, the program also benefits our farmers, helping to keep them on their land and sustaining agriculture into the future."

President Obama's economic stimulus package included $2.172 million for the purchase of 2.65 million pounds of canned fruit through The Emergency Food Assistance Program (TEFAP).  Delivery has begun of those items. New Jersey also received $544,427 in additional stimulus funds to pay for warehousing charges due to the increased volume of commodities. TEFAP distributes USDA-donated commodities to the food banks. 

"New Jersey is one of a handful of states in the nation that commits additional state funds to purchase healthy and nutritious foods for distribution to those who need it," said Regional Administrator Jackson.  "This is a perfect example of what partnerships are all about: maximizing opportunities.  The federal government's commodities, the state's extra contribution and the community organizations delivering the food directly to the people."

New Jersey has six emergency feeding operations contracted to distribute the TEFAP items and foods purchased with SFPP funds.  Representatives of all six of the food banks attended the kick-off at the Food Bank of South Jersey today.

"Governor Corzine's Hunger Initiative exemplifies the best in government responsibility as programs such as the State Food Purchase Program help to provide a critical safety net for the more than 100,000 individuals and families in South Jersey that are living in food insecure households," said Valerie Traore of the Food Bank of South Jersey.  "Without his support, particularly during one of the most distressed economic climates we've experienced in this country, we (charitable feeding organizations) could not keep the constant flow of food that is needed to meet the ever increasing demand of those families that are struggling to put food on their tables each day."

The Food Bank of South Jersey is a nonprofit hunger-relief organization founded in 1985.   The organization serves Burlington, Camden, Gloucester, and Salem counties. Now in its 23rd year of community service, the food bank has provided nearly 70 million pounds of food—the equivalent of 56 million meals—to thousands of families, seniors, individuals and children in need.

The five other emergency feeding operations are:  Community FoodBank of New Jersey, Hillside; the FoodBank of Monmouth and Ocean Counties, Neptune; NORWESCAP, Phillipsburg; Mercer Street Friends, Ewing; and Southern Regional Food Distribution Center, Vineland.

The State Food Purchase Program began in 2006 with a $3 million allocation for nutrient-dense food purchases for the hungry, which enabled the state's food banks to purchase 3.9 million pounds of food that fed an average of 262,695 pounds of food monthly that fed 69,110 recipients each month for the first year of the program.  Another million dollars was used to buy needed equipment, such as refrigerators and freezers for the local distribution agencies. In 2007, the program was continued with $4 million for food purchases.

For more information on SFPP, TEFAP, how to access food or how to get involved, visit www.nj.gov/agriculture/divisions/fn/fooddistrib/foodpurchaseprogram.html, www.nj.gov/agriculture/divisions/fn/fooddistrib/tefap.html, or www.endhungernj.org.