NJ DAIRYMAN NAMED NATIONAL OUTSTANDING YOUNG FARMER
2009 New Jersey Outstanding Young Farmer One of Four National Honorees
For Immediate Release: February 19, 2009
Contact: Lynne Richmond
(609) 633-2954

(TRENTON) – H. William Sytsema,

a dairy and cattle farmer from Wantage, Sussex County, New Jersey's

2009 Outstanding Young Farmer, was chosen as one of four National Outstanding Young Farmers by the United States Junior Chamber (Jaycees) on February 14 at their 2009 Awards Congress in Eugene, Oregon.

"Will Sytsema is a wonderful example of the hardworking and innovative younger farmers in New Jersey that are helping our state's agriculture thrive and grow," said Acting New Jersey Secretary of Agriculture Alfred W. Murray.  "Will sets the bar high for his conservation efforts and service to the industry and his community."

Sytsema, who is 39, joined farmers from Iowa, Ohio and Oregon as recipients of the national honors.  He is only the fifth New Jersey farmer named National Outstanding Young Farmer in the program's 50-year history.  The others are:  Jeff Vander Groef, a Sussex County dairy farmer (2005); Robert C. Von Thun Jr., a Middlesex County vegetable farmer (2001); James Giamarese, a Middlesex County vegetable farmer (1989); Abbott W. Lee, a Burlington County cranberry farmer (1985).



A fifth generation farmer, Sytsema purchased the family farm from his father in 2000.  With the help of his wife,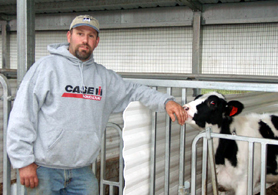 Holly, he expanded the business to include a retail farm market and agricultural education programs.  His farm, Windy Flats Dairy, now includes 87 acres owned by Will, 40 acres owned in partnership, 900 acres of rental fields, 110 cows, 80 replacement heifers and 15 beef stock.  The Sytsemas are raising their children, Halee, Will, EmmaMae and Clay on the farm.

Will is a strong participant in the Environmental Quality Incentives Program (EQIP), entering into a contractual agreement for conservation priority prescribed grazing, filter strips and integrated crop management.  Using a cost share grant, he replaced his undersized earthen manure storage system with a concrete manure tank to alleviate the potential for environmental harm.  Production practices such as crop rotations, crop residue management, manure management, crop conservation tillage and soil analysis are all an integral part of Will's success, which led to receiving soil conservation awards on three separate occasions. 

Will is a participant in the New Jersey Cattle Health Assurance Program to promote herd health, completed a new calf nursery facility that allows better care and growth and healthy calves with less labor and his beef stock is designated "all natural supreme beef."  For all of his efforts, Windy Flats Dairy has been designated a Dairy of Distinction.

"Growing up on his family's farm, Will takes great pride in being a farmer in the Garden State and is passing on the tradition to his four children," said Murray.  "With his sense of community and strong leadership, Will is helping to shape the future of agriculture in New Jersey."

Outstanding Young Farmer nominees must be farm operators, deriving a minimum of two-thirds of their income from farming and must be between the ages of 21-40, not becoming 41 prior to the National OYF Awards Congress.  Candidates who have a financial interest in the farm operation (a sole proprietor, partners, or a corporation) will receive higher ranking in the OYF judging process. However, nominees also may include salaried farm managers and employees who are actively involved in policy and management decisions.  Submission of a financial statement is not required for state competition.

The OYF program is the oldest farmer recognition program in the United States, selecting its first group of national winners in 1955, and is administered by the U.S. Junior Chamber of Commerce. The goals of the OYF program are to foster better urban-rural relations through the understanding of farmers' challenges, as well as the appreciation of their contributions and achievements; to bring about a greater interest in farmers/ranchers; and to help build an urban awareness of the farmers' importance and impact on America's economy. 

The OYF program encourages a greater interest in agriculture through the appreciation of the farmers' contributions and achievements and recognizes local citizens' contributions and encourages better urban-rural relations. The National OYF program is sponsored by Deere & Company, supported by the Outstanding Farmers of America (OFA) Fraternity and the National Association of County Agriculture Agents (NACAA), and administered by the United States Junior Chamber of Commerce.