STATE AND NATIONAL AGRICULTURE OFFICIALS CELEBRATE SCHOOL BREAKFAST WEEK
Newark Schools Lauded For Universal Breakfast Program
For Immediate Release: March 5, 2009
Contact: Lynne Richmond
(609) 633-2954

(NEWARK) – Acting New Jersey Secretary of Agriculture Alfred W. Murray and Yvette Jackson, Mid-Atlantic Regional Administrator, United States Department of Agriculture Food and Nutrition Service, today stressed the importance of providing school aged children with a nutritious, well-balanced breakfast as they celebrated National School Breakfast Week with second grade students in Newark.

Murray and Jackson joined 24 students in their classroom as they ate their breakfast of low-fat cereal and milk, graham crackers and apple juice at Harriet Tubman Blue Ribbon School.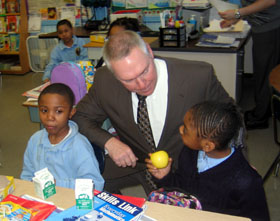 "New Jersey's School Breakfast Program provides students with the good foods they need to start their day and help them perform better in school," said Acting Secretary Murray.  "The program promotes sound eating habits that foster good health that we hope students will carry into adulthood and throughout their lives."

The U.S. Department of Agriculture administers the School Breakfast Program at the federal level, providing cash subsidies for each meal served.  New Jersey strongly supports this program, and provides additional state funding for every breakfast served.  The New Jersey Department of Agriculture operates the program in the state.  The program, established in 1966, provides nutritionally balanced breakfasts in public and nonprofit private schools and residential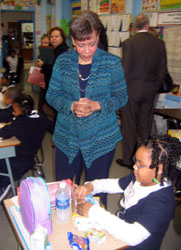 childcare institutions.  Those breakfasts are required to provide one-fourth of the recommended dietary allowances for protein, vitamin A, vitamin C, iron, calcium and calories.

"We are celebrating School Breakfast Week at Harriet Tubman because, like all the other schools in Newark, this school provides breakfast at no cost to children," said Jackson.  "Newark has been cited as a national model by the Food Research and Action Center for meeting the needs of its students and making sure that their students start the school day ready to learn."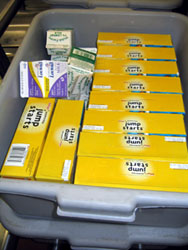 Newark Schools serve breakfast to all students in their classrooms.  Of the 285 students at Harriet Tubman School, 97 percent participate in the breakfast program each day.  Statewide participation averages about 10 percent.

Harriet Tubman School principal Deborah Terrell said the school is committed to good nutrition.  Rutgers Cooperative Extension of Essex County visits the school weekly to teach students about nutrition.  The after-school youth development program will give nutrition lessons in the spring.  In addition, parent workshops on healthy living are given periodically throughout the year.

Statewide in New Jersey, 1,782 schools participate in the National School Lunch Program, with an average of 156,346 students eating breakfast every day. 



To help promote the School Breakfast Program and encourage participation by both schools and students, the New Jersey Department of Agriculture developed a website, "Food For Thought – New Jersey School Breakfast Program," at

 www.njdafoodforthought.com.  The site has information and resources for parents, teachers, and children to help them work together to ensure students eat a healthy breakfast each morning.

For more information about the Department of Agriculture's school breakfast program, visit www.nj.gov/agriculture/divisions/fn/childadult/school_breakfast.html.



National School Breakfast Week is taking place March 2 – 6 this year.  It was launched in 1989 to raise awareness of the availability of the School Breakfast Program to all children.   For more information on the School Nutrition Association's breakfast campaign, visit http://docs.schoolnutrition.org/meetingsandevents/nsbw2009/index.html.