HIGHLAND PARK SCHOOL HONORED BY NY JETS, AG SECRETARY FOR OUTSTANDING NUTRITION POLICIES
For Immediate Release: March 18, 2009
Contact: Lynne Richmond
(609) 633-2954

(HIGHLAND PARK) – For its commitment to good nutrition, New Jersey Secretary of Agriculture Douglas H. Fisher and New York Jets offensive tackle D'Brickashaw Ferguson today visited Bartle Elementary School in Highland Park, one of the winners in the Eat Right, Move More program.

"We are proud of Bartle Elementary School for demonstrating that good nutrition and increased activity can be as important to a growing child as nourishing the mind," said Secretary Fisher. "Even though New Jersey school students are eating healthier in school than ever before, kids really listen when a professional football player says he loves fruits and vegetables."

The Eat Right, Move More program, a partnership between the Jets and the Department of Agriculture, encourages New Jersey school children to take advantage of healthy foods in their school cafeterias and become more active.  It challenged New Jersey schools to submit their meal menus to determine the schools with the most creative meal selections and that have made the most significant changes to improve their school nutrition environment.  The prize for the winning schools was a visit from NY Jets players.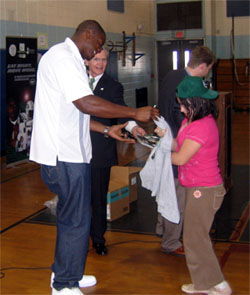 "I am excited to be here today to recognize Bartle Elementary for its commitment to providing healthy and nutritious meals for its students," said Ferguson. "It has been great to see the Eat Right, Move More program grow over the past three years and how schools throughout New Jersey continue to be creative in the menus and the exercise activities they offer."

This is the third year of the Eat Right, Move More Program, with Ferguson as spokesman.  The campaign features posters of Ferguson in every school telling students, "When I have a healthy meal, it helps me play my best.  Your school cafeteria has a variety of nutritious foods to keep you going all day long.  So get up, eat right and move more!"

This year's program focused on School Breakfast and how schools have made efforts to offer and promote healthy and interesting morning menu choices.  Bartle Elementary School, which houses 471 students from grades 2 to 5, has offered breakfast 15 minutes before school starts in the cafeteria for the past seven years. 

"Bartle School is thrilled to have the Jets organization join us in guiding our students to a healthy lifestyle and eating habits," said school principal Lauren Frasier.  "Having role models, such as D'Brickashaw Ferguson, speak to these issues helps to make it 'cool' to care about the topic."

In addition to breakfast, whole wheat bread, fresh fruit, chicken Caesar salad, and baby carrots with dip are some of the healthy choices students at the school have on their lunch menu.

Students at Bartle learn about healthy foods, a balanced diet, setting goals, and decision-making in their health class each week.  In physical education classes, they are taught about the fundamentals of sports, as well as cardiovascular health and strong muscles.  Students also are taught the importance of recycling.  The school has placed recycling bins in the cafeteria and the children were instructed which items used in the breakfast and lunch programs are recyclable.

Four other schools from around the state were selected as winners in the Eat Right, Move More program: Passaic County Technical Institute (PCTI) in Wayne; Samsel Upper Elementary School in Sayreville; Somerset School in North Plainfield; and Berkeley Township Elementary School.  PCTI was the grand prize winner and was visited by Ferguson in December.  The school also sent representatives to the December 14 Jets game at Giants Stadium to be honored on the field.

Programs funded by the New York Jets Foundation touch the lives of countless young men and women in the tri-state area. Over the past nine years, the Jets and their charitable foundation have raised or contributed more than $9 million to promote youth health, fitness and education, particularly in disadvantaged communities. From fighting childhood obesity through the Generation Jets: Be Lean & Green initiative to launching a football team in a urban high school, urging students to eat right and move more, and supporting the efforts of the Alliance for Lupus Research, the New York Jets invest in programs that make a difference in the lives of others. In addition to the Jets Foundation, which supports their own extensive youth initiatives, the Jets partner with numerous established charitable organizations and participate in causes sponsored by the NFL.

The Department of Agriculture's school nutrition policy is the most comprehensive in the nation and covers pre-kindergarten through 12th grade students.  The policy limits fat and sugar content in foods offered in a la carte lines, snack bars and vending machines, school stores and as part of on-campus fund-raisers.

More than 1,740 schools in New Jersey currently offer the School Breakfast Program.  New Jersey is one of three states in the nation with state support for all breakfast meals served, not just for students that receive free or reduced priced meals. 

To help promote the School Breakfast Program, the Department of Agriculture developed a website, "Food For Thought – New Jersey School Breakfast Program," at www.njdafoodforthought.com.  The site has information and resources for parents, teachers, and children to help them work together to ensure students eat a healthy breakfast each morning.

For more information about the Department of Agriculture's school nutrition programs, visit www.nj.gov/agriculture/divisions/fn/childadult/school.html.