NEW JERSEY BEE POPULATION STABLE AFTER WINTER
For Immediate Release: March 24, 2009
Contact: Lynne Richmond 
(609) 633-2954

(TRENTON) – There will be no shortage of bees to pollinate New Jersey crops this growing season, according to State Apiarist Tim Schuler.  Schuler and New Jersey Secretary of Agriculture Douglas H. Fisher today visited Trapani Farms in Clarskburg to see their honeybee colony and hear from the beekeepers about how their bees fared over the winter.

"The success of many of our state's important crops, such as blueberries, apples, cranberries, cucumbers, squash and pumpkins, rely on insect pollination," said Secretary Fisher.  "Honeybees are vital to our agriculture industry and the Department is monitoring their population to ensure it is free of harmful pests and diseases."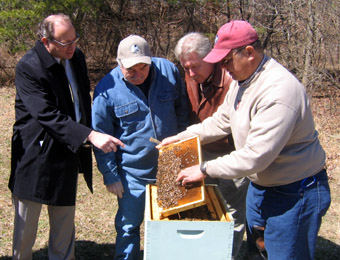 Schuler said that large farms, such as those who grow blueberries, are finding there are commercial out-of-state bees available for pollination.  He said when it comes to New Jersey bees, though, he has seen a number of dead hives over the winter and is investigating the possible causes. 
Secretary Fisher, Angelo Trapani, State Board of Agriculture members Scott Ellis and Tim Schuler look in a beehive at Trapani Farms

"In 2008, we saw a 17 percent over-winter death loss when death loss should only be 10 percent or less," said Schuler. "We are currently surveying for this past winter's death loss and are hoping it will be less than 15 percent."

Due to declining numbers of beekeepers a few years ago and the state's great need for honeybees for crop pollination, the New Jersey Department of Agriculture sponsored an incentive program with Rutgers University and the New Jersey Beekeepers Association, to encourage new beekeepers.  The program offered starter hives and basic beekeeping equipment, worth up to $300, for first-time beekeepers who successfully completed the 2006 "Bee-ginning Beekeepers" course, offered by the Rutgers Office of Continuing Professional Education.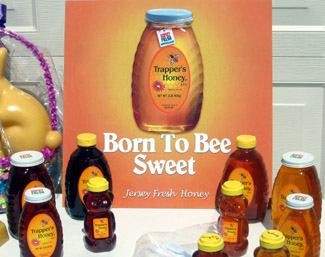 Angelo and Anne Trapani, who have a c

hrysanthemum farm,

participated in the program and from their starter hive now have 30 hives and are adding to their colony every year.  In addition, the Trapani's are active in the New Jersey Beekeepers Association, with Angelo editing the group's newsletter and Anne's honey winning top prizes in the Association's 2009 honey show.

"Both my father and grandfather had bees so we decided to do it for the pollination and to expand the farm," said Anne Trapani.  "I think bees are neat little guys.  It's fascinating that they're females and do their work in the dark.  They each have their jobs to do and they do it well."

Trapani said people might think beekeeping is easy, but it's a lot of work to take care of the bees.  She said the beginner's beekeeping course was very helpful.

The Department sponsored another incentive program in 2008.  It was so popular that two additional courses were added that year, even though only the first class received the startup equipment.  This year's April course is already filled and a second course in May is half-filled.  Because of the great interest, an advanced, hands-on beekeeping course for people who have kept bees for at least a year is being offered for the first time this year.

Since 2006, 600 new beekeepers have registered with the Department.  New Jersey has about 190 farms with 9,000 colonies that yielded 360,000 pounds of honey with a production value of $569,000 in 2008.  That compared with 2007 when 513,000 pounds were collected with a value of $1 million.

To register for the Rutgers "Bee-ginning Beekeepers" course being held May 21-23 at Rutgers EcoComplex in Bordentown, visit www.cpe.rutgers.edu/courses/current/ae0401ca.html.

For more information on the Department of Agriculture's bee inspection program, visit www.nj.gov/agriculture/divisions/pi/prog/beeinspection.html.