NEW JERSEY STUDENT PLACES FIRST IN NATIONAL CONSERVATION POSTER CONTEST
Two Other NJ Students Place Second
For Immediate Release: March 30, 2009
Contact: Lynne Richmond
(609) 633-2954

(TRENTON) – An 11th grade Montgomery High School student from Belle Mead earned top honors this year in a national poster contest designed to raise awareness of natural resources and related issues among young people.

Wilson Pei's poster about the theme, "Water is Life," won first prize in the Grades 10-12 category in the National Association of Conservation Districts conservation poster contest.  Connie Han of Chatham, a third-grade student at Southern Boulevard School, received second place honors in the Grades 2-3 category and Phoebe Chou of Parsippany, an eighth-grader at Central Middle School, won second place in the Grades 7-9 category.  All were first place winners in the state level competition sponsored by the New Jersey Department of Agriculture Soil Conservation Committee.

"New Jersey not only has talented young artists, but socially conscious students who care about protecting our natural resources," said New Jersey Secretary of Agriculture Douglas H. Fisher.  "We are proud of Wilson, Connie and Phoebe and we encourage them to continue their interest in conservation in the future."

One hundred and fifty posters from 35 states were entered in the 18h annual contest.  Of the 15 winning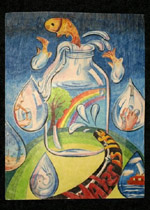 posters chosen nationwide, New Jersey students produced three, one taking first place and two taking second place in their grade level categories.

The competition was sponsored by the National Association of Conservation Districts and the NACD Auxiliary in cooperation with the Washington County Soil Conservation District in Maryland.  Each first place winner received a $100 prize and the second place winner received a $75 prize.  The posters were displayed at the NACD's Annual Conference held in February in Reno, Nevada. 

Phoebe Chou's winning poster

There were more than 1,000 entries in the statewide contest.  First place winners received $200 bonds, second place $100 bonds, and third place $50 bonds.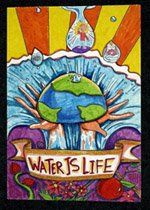 New Jersey's 15 soil conservation districts work to conserve and manage soil and water resources in the state. For more information about local conservation poster contests or other conservation education programs, visit www.nj.gov/agriculture/divisions/anr/nrc/conservationedu.html or contact your local soil conservation district or the State Soil Conservation Committee at (609) 292-5540.

Connie Han's winning poster