Home
>
News
>
Press Releases
>
2009
>
NORTH PLAINFIELD SCHOOL HONORED BY NY JETS, DEPARTMENT OF AGRICULTURE FOR TOP NUTRITION PROGRAM
NORTH PLAINFIELD SCHOOL HONORED BY NY JETS, DEPARTMENT OF AGRICULTURE FOR TOP NUTRITION PROGRAM
For Immediate Release: April 15, 2009
Contact: Lynne Richmond
(609) 633-2954

(NORTH PLAINFIELD) – New York Jets wide receiver Chansi Stuckey and New Jersey Department of Agriculture representatives visited Somerset Intermediate School in North Plainfield today to celebrate the school's commitment to good nutrition and increased activity.  Somerset School was one of five winners this school year in the Eat Right, Move More program.

"We thank the Jets for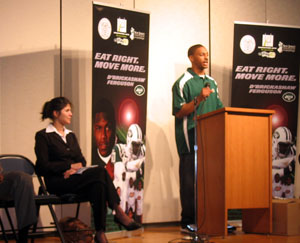 partnering with the Department of Agriculture in stressing to students the importance of eating the nutritious food offered in our state's school cafeterias and increasing their activity levels," said New Jersey Secretary of Agriculture Douglas H. Fisher.  "Somerset Intermediate School has demonstrated that good nutrition and being physically active is as important to a growing child as is nourishing the mind."
Arleen Ramos-Szatmary of the NJDA
and NY Jets player Chansi Stuckey at Somerset School

Eat Right, Move More, a partnership between the Jets and the Department of Agriculture, encourages New Jersey school children to take advantage of healthy foods in their school cafeterias and become more active.  It challenged New Jersey schools to submit their meal menus to determine the schools with the most creative meal selections and that have made the most significant changes to improve their school nutrition environment.  The prize for the winning schools was a visit from NY Jets players. 

Stuckey, a 25 year old, 6-foot tall wide receiver, who graduated from Clemson University in South Carolina, has played for the Jets since 2007.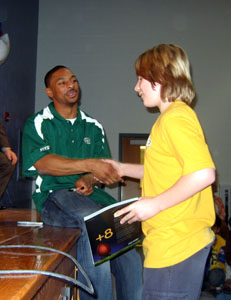 "I am proud to be a part of honoring Somerset School's commitment to eating healthier and staying active," said Stuckey.  "This is my second appearance for Eat Right, Move More and each time I have more fun. This is such an important program for the students and school."

This year's Eat Right, Move More program focused on School Breakfast and how schools have made efforts to offer and promote healthy and interesting morning menu choices.  Somerset Intermediate School, which houses 510 fifth and sixth grade students, has offered breakfast in the cafeteria before school for four years.  School principal Reginald Sainte-Rose said it is important to offer students healthy alternatives for risky behaviors and they have a variety of programs to get the students exercising.

"Somerset School student's school fitness and health initiatives make it clear that we continuously demonstrate our efforts to ensure that all students receive appropriate and rigorous instruction in these subjects," said Sainte-Rose.  "Healthy kids learn better.  Improving fitness and nutrition is one of the best investments we can make for our children – and for our students' futures."

Sainte-Rose said Somerset School offers a variety of sports and exercise extra-curricular activities including a field day, student-faculty kickball and basketball games and a martial arts club.  In the cafeteria, they have monthly nutrition promotions, nutrition fact cards of school lunch menu items are given to students and parents and guardians were invited to breakfast during National School Breakfast Week in March.

In addition, the school participates in the Farm to School program, in which produce purchased from New Jersey farmers is incorporated into school meals. 



Four other schools from around the state were selected as winners in the Eat Right, Move More program: Passaic County Technical Institute (PCTI) in Wayne; Bartle Elementary School in Highland Park; Berkeley Township Elementary School in Bayville; and Samsel Upper Elementary School in Sayreville. PCTI was the grand prize winner and was visited by Jets offensive tackle D'Brickashaw Ferguson in December. Representatives from the school also were honored on the field of the December 14th Jets game at the Meadowlands.

Programs funded by the New York Jets Foundation touch the lives of countless young men and women in the tri-state area. Over the past nine years, the Jets and their charitable foundation have raised or contributed more than $9 million to promote youth health, fitness and education, particularly in disadvantaged communities. From fighting childhood obesity through the Generation Jets: Be Lean & Green initiative to launching a football team in a urban high school, urging students to eat right and move more, and supporting the efforts of the Alliance for Lupus Research, the New York Jets invest in programs that make a difference in the lives of others. In addition to the Jets Foundation, which supports their own extensive youth initiatives, the Jets partner with numerous established charitable organizations and participate in causes sponsored by the NFL.

The Department of Agriculture's school nutrition policy is the most comprehensive in the nation and covers pre-kindergarten through 12th grade students.  The policy limits fat and sugar content in foods offered in a la carte lines, snack bars and vending machines, school stores and as part of on-campus fund-raisers.

More than 1,740 schools in New Jersey currently offer the School Breakfast Program.  New Jersey is one of three states in the nation with state support for all breakfast meals served, not just for students that receive free or reduced priced meals. 

To help promote the School Breakfast Program, the Department of Agriculture developed a website, "Food For Thought – New Jersey School Breakfast Program," at www.njdafoodforthought.com.  The site has information and resources for parents, teachers, and children to help them work together to ensure students eat a healthy breakfast each morning.

For more information about the Department of Agriculture's school nutrition programs, visit www.nj.gov/agriculture/divisions/fn/childadult/school.html.