AGRICULTURE SECRETARY SHARES STUDENTS' BOUNTY AT BRANCHBURG SCHOOL SALAD EXTRAVAGANZA
For Immediate Release: June 10, 2009
Contact: Lynne Richmond
(609) 633-2954

(BRANCHBURG) – New Jersey Secretary of Agriculture Douglas H. Fisher today sampled a salad of greens, onions, radishes, carrots, broccoli and beets along with students, teachers, parents and volunteers at Old York School in Branchburg during their Salad Extravaganza. 

The vegetables were grown and harvested by the school's third grade students through the Seeds to Salad Program with Rutgers Cooperative Extension of Somerset and Hunterdon Counties. 

"The Seeds to Salad program teaches students a valuable lesson on how to grow their own food, skills they will take with them throughout their lives," said Secretary Fisher.  "In addition, when children know where the food they eat comes from, they can better understand the importance of having farms in our state and protecting them for the future."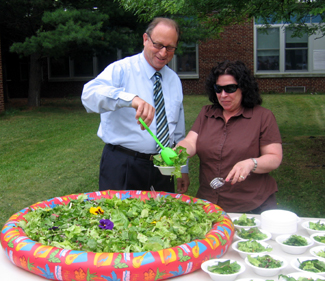 Secretary Fisher and a parent volunteer serve up salad during the Salad Extravaganza

On March 31, six third grade classes at Old York School planted the garden on 5-foot by 8-foot plots in their school yard.  Each week, the Master Gardeners came to the school to help the class weed and water their plots.

The students planted a variety of spring vegetables, including: lettuce, Swiss chard, spinach, yellow onions, red onions, radishes, carrots, broccoli, and beets.  Yesterday, the children harvested the produce grown in their garden, then volunteers trimmed, washed and prepared the vegetables for the Salad Extravaganza.

This is the third year that Old York School has participated in the Seeds to Salad Program with the Master Gardeners.  Principal Matthew Barbosa said the program complemented what the students were learning in science class on plant growth and development.

"Seeds to Salad helps our students see the amount of work it takes to produce our food and it also gives them a chance to do some hands-on learning," said Barbosa.  "The program also turns the kids on to healthy eating habits.  Even though parents say their children don't like vegetables, on Salad Extravaganza Day, we see the students going back for multiple helpings of the salad that they grew."

The New Jersey Department of Agriculture administers the National School Lunch, the School Breakfast, and the Fresh Fruit and Vegetable programs.  The Department also encourages programs that teach people about growing their own food and eating healthier, including the New Jersey Agricultural Society's Learning Through Gardening Program www.njagsociety.org/aitc/aitc.htm and America's Grow a Row For the Hungry http://americasgrowarow.org/.