Home
>
News
>
Press Releases
>
2009
>
SECRETARY FISHER: SEAFOOD CHEF'S JERSEY SCALLOPS RECIPE 'SHORE' TO PLEASE IN NATIONAL COMPETITION
SECRETARY FISHER: SEAFOOD CHEF'S JERSEY SCALLOPS RECIPE 'SHORE' TO PLEASE IN NATIONAL COMPETITION
For Immediate Release: June 15, 2009
Contact: Lynne Richmond
(609) 633-2954

(TRENTON) – New Jersey Secretary of Agriculture Douglas H. Fisher today declared the Barnegat Light scallops recipe prepared by chef Peter J. Fischbach a winner in his book, after sampling the dish, along with Jersey Fresh root vegetables at the New Jersey Restaurant Association's Trenton office.

Fischbach, the executive chef and Food Service Director for Gourmet Dining Services at the New Jersey Institute of Technology in Newark and a Toms River resident, held a practice session for the Great American Seafood Cook-off in New Orleans on July 18.  Fischbach will represent New Jersey in the competition.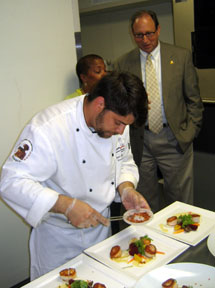 "Scallops are the top species of seafood caught by New Jersey fishermen, so it's appropriate that Chef Peter will be showcasing our local scallops in his dish at the national cook-off," said Secretary Fisher.  "Peter's dish also includes  Jersey Fresh vegetables to highlight the best New Jersey has to offer.  We hope the judges in New Orleans enjoy this dish as much as I have and show that New Jersey's seafood is among the best in the country."

Secretary Fisher looks on as Peter Fischbach puts the finishing touches on his seared scallops dish

Fischbach was the winner of the 2008 Jersey Seafood Challenge, a state-wide competition held by the Department of Agriculture and the Academy of Culinary Arts at Atlantic Cape Community College in cooperation with the New Jersey Restaurant Association; Garden State Seafood Association; New Jersey Marine Sciences Consortium and New Jersey Sea Grant; Slow Food-New Jersey; Eat-Drink New Jersey; Rutgers Cooperative Extension; and New Jersey Chapters of the American Culinary Federation.

Fischbach went on to represent New Jersey in last year's Great American Seafood Cook-off, placing 6th out of the 19 competitors.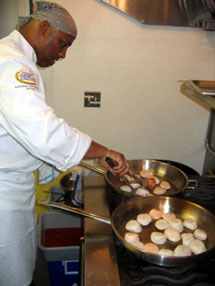 This year's Great American Seafood Cook-off is being held July 18 during the Louisiana Foodservice Expo in the Morial Convention Center.  The champion will be named King or Queen of American Seafood.  The cook-off is televised by the Food Network and is part of the Louisiana Foodservice Expo.  Fischbach will travel there with his sous chef Erik Weatherspool, owner/chef of Bistro 44 in Toms River.

Erik Weatherspool sears the Barnegat Light scallops during practice session for Seafood Cook-off

"What we learned from last year's competition is that what matters most is how good the food is, plate presentation and cooking techniques," said Fischbach.  "We chose to cook scallops because New Jersey has the best scallops on the east coast, perhaps even the nation; they are firm, fresh, sweet with tremendous all-around flavor."

Fishbach and Weatherspool will have one hour, start to finish, to prepare 10 plates of the seared scallops dish.  They plan to serve the scallops over creamy herbed grits with pickled baby root vegetables and sweet corn veloute.  Fischbach said the dish will likely be refined over the next several weeks.  He has scheduled similar practice sessions to today's for every Monday until he and Erik leave for New Orleans.

The value of New Jersey's 2007 seafood catch was $152.6 million.  The National Marine Fisheries Service estimates that for every one dollar of landed value, six dollars are generated in the overall economy.

The top species by dollar value harvested in New Jersey included:  sea scallops; surf clams; hard clams; blue crabs; ocean quahogs; and, fluke.

For more information about New Jersey seafood, visit the Jersey Seafood website at www.jerseyseafood.nj.gov.