McKITTRICK SWORN IN TO SEAT ON STATE BOARD OF AGRICULTURE
Filling Unexpired Term
For Immediate Release: June 25, 2009
Contact: Lynne Richmond
(609) 633-2954

(TRENTON) – A nursery owner from Monmouth County was sworn in to fill an unexpired term on the New Jersey State Board of Agriculture during the board's June meeting at Tabernacle Town Hall on June 24.

Hugh McKittrick will fill the unexpired term of William Randolph, who resigned from the board earlier this year.  That term will expire in 2010.

"Hugh McKittrick is a welcome addition to the State Board of Agriculture," said New Jersey Secretary of Agriculture Douglas H. Fisher.  "His experience and enthusiasm will be great assets as the Board tackles issues that will impact the future of the agriculture industry."

McKittrick owns McKittrick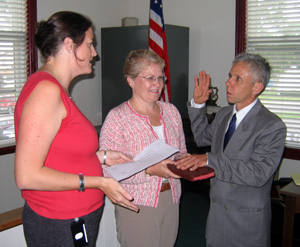 Nurseries in Colts Neck, a family-run business which produces plants for wholesale distribution nationally.

"I look forward to serving the agricultural industry on the State Board of Agriculture," said McKittrick.  "My goal is to help protect the interests of the farming community as well as the general public, both fiscally and policy-wise."



Deputy Attorney General Kristen Heinzerling administers oath to McKittrick with his wife, Nina, at the State Board of Agriculture Meeting in Tabernacle

McKittrick is a past president and long-time member of the Monmouth County Board of Agriculture and a past chairman of the Monmouth County Agricultural Development Board.  He served on the State Agriculture Development Committee's ad hoc committee on problem resolution and on the policy committee.  He is a member of the U.S. Congressional District 12, Agricultural Advisory Committee, and he served one term on the New Jersey Farm Bureau Board of Directors.

The State Board of Agriculture, comprising eight members, is the policy-making body of the New Jersey Department of Agriculture. Its members serve for four years, with two members being replaced each year. By law, at least four of its members must represent the top commodity groups in the state.  Members serve without salary, but may be reimbursed for expenses.  For more information, visit www.nj.gov/agriculture/about/sba.