Home
>
News
>
Press Releases
>
2009
>
SECRETARY OF AGRICULTURE CELEBRATES SUMMER AGRITOURISM WITH VISIT TO PICK-YOUR-OWN BLUEBERRY FARM
SECRETARY OF AGRICULTURE CELEBRATES SUMMER AGRITOURISM WITH VISIT TO PICK-YOUR-OWN BLUEBERRY FARM
For Immediate Release: July 1, 2009
Contact: Lynne Richmond
(609) 633-2954

(BELLEPLAIN) – Stepping onto the Allen Family farm takes a visitor back in time, to carefree summer days.  Hundreds of people each year have come to the rustic farm to stroll through their four acres of blueberry bushes and pick the popular fruit.

New Jersey Secretary of Agriculture Douglas H. Fisher today grabbed a bucket for a morning of blueberry picking, enjoying the berries and chatting with owner Carol Ann Allen.

"Going out into a field and picking blueberries or any number of fruits and vegetables grown on New Jersey's pick-your-own farms this summer provides lasting memories for children,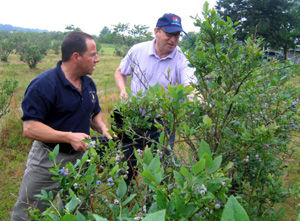 families and individuals and also helps them to understand where and how their food is grown," said Secretary Fisher.  "There is likely a pick-your-own farm or other agritourism opportunity near to where most people in New Jersey live, providing them with a fun way to access fresh and healthy Jersey Fresh produce."


Assemblyman Nelson Albano and Secretary Fisher pick blueberries at Allen Farm

Secretary Fisher was joined by Assemblyman Nelson Albano, Chairman of the Assembly Agriculture and Natural Resources Committee and his First Legislative District colleague Assemblyman Matthew Milam.

"Agritourism is such an important economic driver in our region," said Assemblyman Albano.  "We have a unique environment in South Jersey that lends itself to both agriculture and tourism. It is a great combination."

"New Jersey's blueberries are the best in the nation and the demand for them has progressively increased especially now that people have realized that they are not only tasty but good for you," said Assemblyman Milam.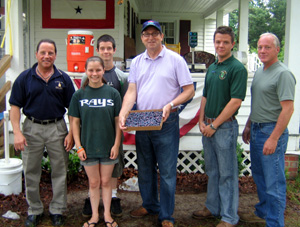 Allen and her late husband, Willis, purchased the farm in 1998 after having visited there yearly for about 10 years for blueberry picking.  Both had grown up on farms and when the pick-your-own portion of the 300 acre farm was put up for sale, they knew it would be a great place to raise their children. 

Assemblyman Albano, Carol Ann Allen, Tony Allen, Secretary Fisher, Tom Beaver of NJ Farm Bureau and Assemblyman Milam

"We have people who have been coming for close to 30 years who now bring their grandchildren and great-grandchildren," said Allen.  "Our customers have become our friends.  They are drawn here by the peace and quiet of old-fashioned, country living.  They come to make memories."

Jersey Fresh blueberries have just come in to season and are now available at pick-your-own farms, supermarkets, roadside stands and community farmers markets.  New Jersey ranks second in the nation in blueberry production with 59 million pounds produced in the state last year valued at $82 million.

There have been many reports as to the health benefits of blueberries.  United States Department of Agriculture researchers found that blueberries ranked first in antioxidant activity in comparison to 40 other fresh fruits and vegetables.  Antioxidants help neutralize harmful by-products of metabolism called "free radicals" that are associated with cancer and other age related diseases.

New Jersey has a variety of summer agritourism opportunities, including pick-your-own farms, wine and seafood festivals, activities at roadside markets and community farmers markets, and even farm summer camps.

Agritourism is a $57.5 million industry in the state.  A Rutgers University study found that 43 percent of New Jersey's total farmland associated with farm operations engaged in agritourism.

To find agritourism venues, visit www.jerseyfresh.nj.gov or www.visitnjfarms.org. 

To find Jersey Fresh produce recipes, visit www.jerseyfresh.nj.gov/recipes/index.html.