NEW PROGRAM LETS FAMILIES USE FOOD STAMPS AT FARMERS MARKETS
Promotes Healthy Eating
IMMEDIATE RELEASE: July 9, 2009
Contact: Ellen Lovejoy
(609) 292-3703

TRENTON – Families who receive foods stamps can now use them to buy fresh produce at many farmers markets throughout the state under a new program kicked off today by Human Services Commissioner Jennifer Velez and Agriculture Secretary Douglas Fisher.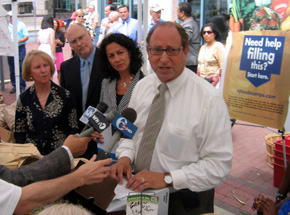 Area families and farmers attending a press conference at the Capital Farmer's Market on East State Street praised the pilot program, which aims to make healthier food choices more available to lower-income residents.


Pat Dombroski of USDA, Commissioner Velez and Secretary Fisher

"This collaboration between State agencies will allow for food stamp purchases at community farmers markets, bringing just-picked Jersey Fresh produce right to where people live," said Governor Jon S. Corzine. "This is another example of how state government is working to best serve New Jersey residents in need and improve the quality of their lives."

"Maintaining good nutrition, while living on a very limited budget is something that Food Stamp recipients wrestle with every day," said Commissioner Velez.  "People who use Food Stamps, now called the Supplemental Nutrition Assistance Program (SNAP), now have a greater choice of where they can purchase healthy, fresh New Jersey fruits and vegetables to enhance and stretch their food dollars."

"Governor Corzine has made it a priority to ensure that all New Jersey residents have access to the bounty of nutritious Jersey Fresh produce," said New Jersey Secretary of Agriculture Douglas H. Fisher.  "Those in need of food assistance have been receiving Jersey Fresh produce at food pantries through the State Food Purchase Program and now, Food Stamp recipients can benefit by using their EBT (Electronic Benefits Transfer) cards at community farmers markets."

Families can now scan their EBT cards at machines at the participating farmers' markets. Many tailgates farmers'markets were not able to accept the card because they didn't have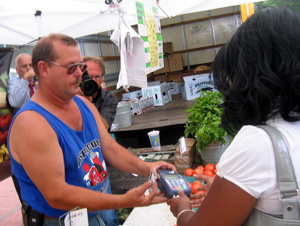 access to the electricity or telephone line needed to process transactions online.  The pilot that is being launched this month provides farmers with the wireless equipment they need to process these transactions.  The farmers will be able to use this equipment at the various farmers' markets around the state where they sell their produce.

Farmer George Asprocolas uses the EBT unit for the first time

"New Jersey is one of the first states in the Mid Atlantic region to bring wireless technology to authorized farmers," according to Patricia Dombroski, Deputy Regional Administrator for the United States Department of Agriculture's (USDA) Food and Nutrition Service. "This technology enables more farmers to offer their nutritious produce to SNAP recipients and help improve the health of New Jerseyans."

The pilot will include at least 15 farmers who sell their produce at farmers' markets throughout New Jersey.  States in other parts of the country have successfully offered this type of customer service to Food Stamp benefit recipients.

Food Stamp recipients can learn which farmer's markets in their area are accepting Food Stamps by consulting posters in their County Welfare Agency.  Posters also will be displayed at the individual stands in the farmers' markets where the Family First card will be accepted.  Food Stamp recipients need to look for the poster at the farmers' markets because not all of the farmers selling produce will be participating in this pilot.

For more information about Food Stamps go to www.njfoodstamps.com and for a list of all of the farmers' markets accepting Food Stamps, visit www.state.nj.us/humanservices/dfd/programs/foodstamps/ebt_farmlist.doc.

Now in its 16th year, the Capital City Market brings NJ Fresh produce, arts & crafts vendors, historical tours and music to downtown Trenton during the summer.  The market runs from 11 am to 2 pm every Thursday between July and September and is held on East State Street between Warren and Broad Streets.   The market is produced by the Trenton Downtown Association and sponsored in part by Capital Health.  For more information about the market, visit www.trenton-downtown.com, or call (609) 393-8998 ext. 13.