NEW MEMBERS TAKE SEATS ON STATE BOARD OF AGRICULTURE
DeEugenio, Giamarese Sworn in to 4-Year Terms
For Immediate Release: July 23, 2009
Contact: Lynne Richmond
(609) 633-2954

(TRENTON) – A fruit farmer from Gloucester County and a vegetable farmer from Middlesex County were sworn in yesterday as the two newest members of the New Jersey State Board of Agriculture during the board's reorganization meeting at the Mountain View Country Club.

Dr. Lewis J. DeEugenio Jr. and James Giamarese were selected for the positions at the February 2009 State Agricultural Convention and later nominated by Governor Jon S. Corzine and confirmed by the State Senate. 

"Dr. DeEugenio and Mr. Giamarese are seasoned farmers who have continually stepped forward as leaders in our state's agricultural industry," said New Jersey Secretary of Agriculture Douglas
H. Fisher.  "Their individual strengths and experience make them wonderful additions to the State Board of Agriculture as the panel works to formulate policy to enhance and grow the New Jersey agricultural industry so it remains an important part of New Jersey's present and future."



Dr. DeEugenio is sworn in by Mercer County Superior Court Judge Maria Sypek

Dr. DeEugenio is the owner-operator of Summit City Farms, a 500-acre peach, nectarine and apple farm in Glassboro.  He is a founding member and Co-Manager of Eastern Propak, LLC, current President of Jersey Fruit Co-op, a past member and chairman of the Gloucester County Agricultural Development Board and a past member of the Gloucester county Board of Agriculture.  DeEugenio is an M.D. and is a board member of South Jersey Hospital System and sits on various committees of Elmer Community Hospital.

James Giamarese and his wife, Sue, farm about 100 acres in East Brunswick.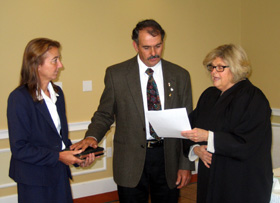 They operate a seasonal farm market, offering a full line of produce, with 80 percent of the products grown on their farm.  They have pick-your-own strawberries, peas, apples, and pumpkins.  They sell a variety of fruits and vegetables wholesale at the Tri-County Co-op in Hightstown.  They grow bedding plants and choose-and-cut Christmas trees.  Their farm is in the state farmland preservation program.
Sue Giamarese holds the bible while her husband, Jim, is sworn in by Judge Sypek

Giamarese is a former president of the New Jersey Agricultural Society, Middlesex County Board of Agriculture, Vegetable Growers Association of New Jersey, and New Jersey Farmer Direct Marketing Association.  He also is involved with the Middlesex County Fair and the New Jersey Agricultural Museum.  In 1989, the New Jersey State Board of Agriculture named Jim as Outstanding Young Farmer.  That year, he was also recognized as a National Outstanding Young Farmer, one of only five New Jersey farmers to gain that honor in 54 years.

In addition, during the meeting, Roger Kumpel, a hay and grain farmer from Southampton, Burlington County, was elected to serve as President of the Board, and W. Scott Ellis, a sweet corn and soy bean grower from Yardville, was selected as Vice-President.

The State Board of Agriculture, comprising eight members, is the policy-making body of the New Jersey Department of Agriculture. Its members serve for four years, with two members being replaced each year. By law, at least four of its members must represent the top commodity groups in the state.  Members serve without salary, but may be reimbursed for expenses.  For more information, visit www.nj.gov/agriculture/about/sba.